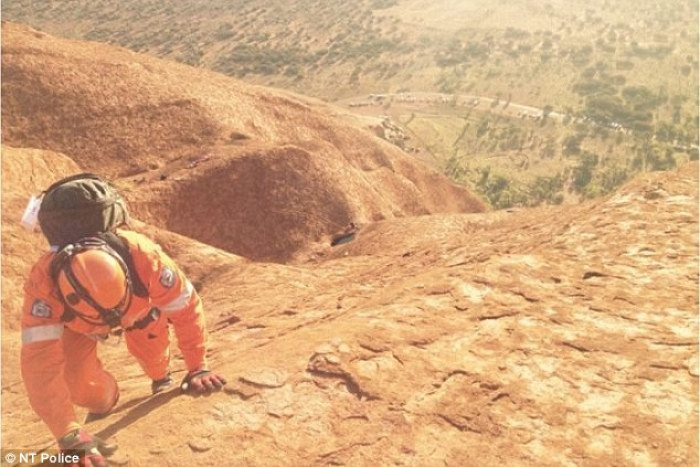 A tourist from Taiwan is recovering after falling 20m into a crevice on Australia's iconic Uluru (Ayers Rock), breaking a leg and being trapped overnight in a T-shirt and shorts as temperatures plunged.
The 27-year-old, who has not been named, is thought to have been trying to climb down the rock when he fell at around 3pm on Thursday (11 June). He was reported missing at 6pm (local time) the same day.
By the time a rescue helicopter reached the scene it was too late to rescue the man, so after communicating with him using a loudhailer food and water was dropped to help him through the night as temperatures plunged to 6C.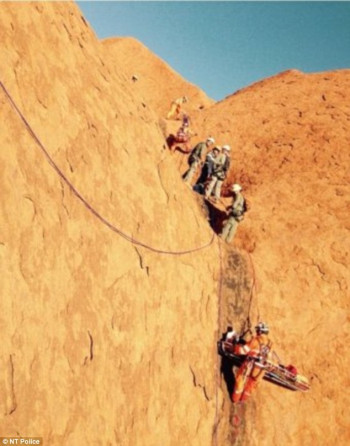 The next morning rescue workers began the slow and difficult process of rescuing the man by abseiling 200m down the rock and securing the tourist – who also had facial injuries – onto a stretcher which was then dragged back up to the helicopter.
In a statement posted on its website Northern Territory (NT) police said the man was with two women, aged 23 and 27, when he decided to go another route.
"It is believed the man took an alternative route to reach the base and became separated from the group," said Superintendent Don Fry.
"Police received a report the man was missing at 6pm when he failed to return.
"Police conducted an aerial search and located the man a short time later stuck in a crevasse.
"Due to poor light the rescue could only commence in the morning. Police members, Uluru-Kata Tjuta National Park staff and the two women stayed in contact with the man overnight."
Although climbing Uluru is not illegal, Aboriginal Australians ask visitors not to climb the rock as it is sacred to their religion.
Climbing the rock is also dangerous as, apart from high temperatures, there are sheer drops, strong winds and few guards. Most of the 35 reported deaths climbing Uluru have been due to heart attacks.