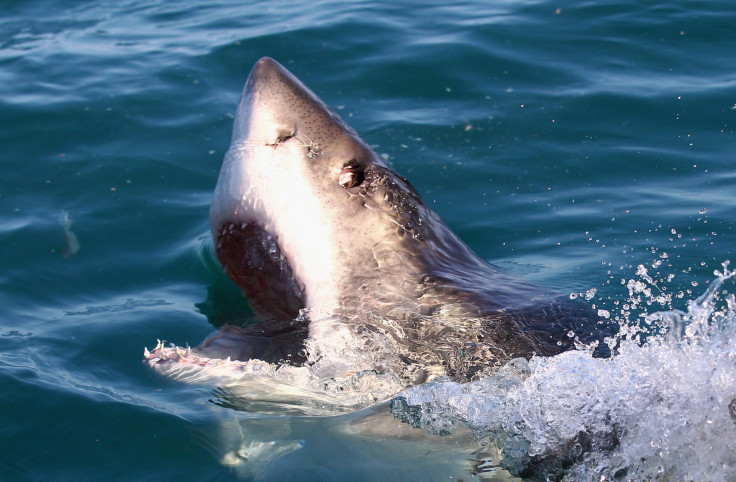 A 73-year-old Australian fisherman has miraculously survived to tell the tale of his encounter with a 200kg (440lb) great white shark, which jumped into his boat and injured him.
On Saturday, 27 May, Terry Selwood was fishing offshore at Evans Head on the New South Wales north coast when the giant animal suddenly emerged from the water.
Selwood said that the 2.7m (8.8ft) shark came inside his small boat, measured 1.4 metres across and 4.5 metres long, and hit him with its pectoral fin.
"I caught a blur of something coming over the boat ... and the pectoral fin of the shark hit me on the forearm and knocked me down on the ground to my hands and knees.
"He came right over the top of the motor and then dropped onto the floor. I was losing a fair amount of blood, I was stunned, I couldn't register what happened and then I thought, 'oh my God, I've got to get out of here,'" Selwood told the Australian Broadcasting Corp (ABC).
"There I was on all fours and he's looking at me and I'm looking at him and then he started to do the dance around and shake and I couldn't get out quick enough onto the gunnel," he added.
Selwood was rescued after he contacted the local marine rescue volunteers for help using his radio.
Marine Rescue Unit commander Karen Brown said the rescue operation was completed in two parts. In the first part, Selwood was saved and sent to the shore; later the fisherman's boat and the shark were recovered.
Soon after the rescue operation, Selwood was taken to a hospital where he was treated for his injuries. He has since returned home.
Department of Primary Industries (DPI) had taken the shark out of the boat with a forklift. NSW fishing authorities said the animal would undergo an autopsy to confirm its age and gender.
Selwood, who had been into the fishing profession for last 60 years, said he had not experienced anything this dramatic before.
"I think next time I might find a crocodile to wrestle, just to stay in the limelight," he said jokingly.