Austria votes as far-right leader Norbert Hofer tipped to win
Austria goes to the polls on Sunday (22 May) with far-right leader Norbert Hofer widely tipped to win in the second round of voting. The elections are being watched closely as the outcome could potentially shake up Austrian, and in turn, European politics.
If victorious, Hofer could become the first head of state of a European Union nation, hailing from the far-right. Hofer, the leader of the anti-Islam and eurosceptic Freedom Party, is challenged by an independent, Alexander Van der Bellen, who is, nonetheless, expected to put up a tough fight. The Green party has thrown its weight behind Van der Bellen.
The presidential run-off is taking place following round one in which Hofer was placed well ahead. Both the major centrist parties, the Social Democrats and the People's Party, were thrown out of the race in the first round in April – the first ever time both the parties were rejected since the World War II.
In what has been labelled as a political "tsunami" by the Austrian media, Hofer secured 35% in the first round while his challenger managed to get only 21%. In Austria, though the presidency is only a ceremonial post, it has far-reaching powers. In an ominous tone, Hofer once warned in a television debate: "You will be surprised what can be done [by a president]."
There are also concerns that he could go on to dismiss the government and usher in a chancellor – using the sweeping powers of the president – taking Austria more towards an autocratic rule.
The far-right's resurgence to power in Austria is bound to resonate across the 28-member bloc, which is already reeling under the migrant crisis. Hofer's campaign has been not just against immigration but also against the EU and gay marriage. Austria has taken in close to 90,000 asylum-seekers who have fled the conflict zones of the Middle East in 2015.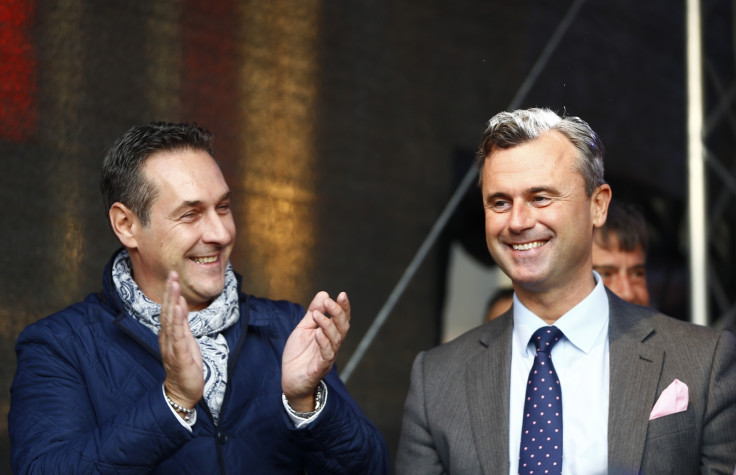 In his final campaign address, Hofer thundered: "Those people who respect and love Austria and have found a new home here are warmly welcome," evoking a strong applause from the rally. "But those, it has to be said, those who do not value our country, who fight for Islamic State, or who rape women, I say to these people: this is not your homeland. You cannot stay in Austria."
© Copyright IBTimes 2023. All rights reserved.