Austrian police arrest five suspected human traffickers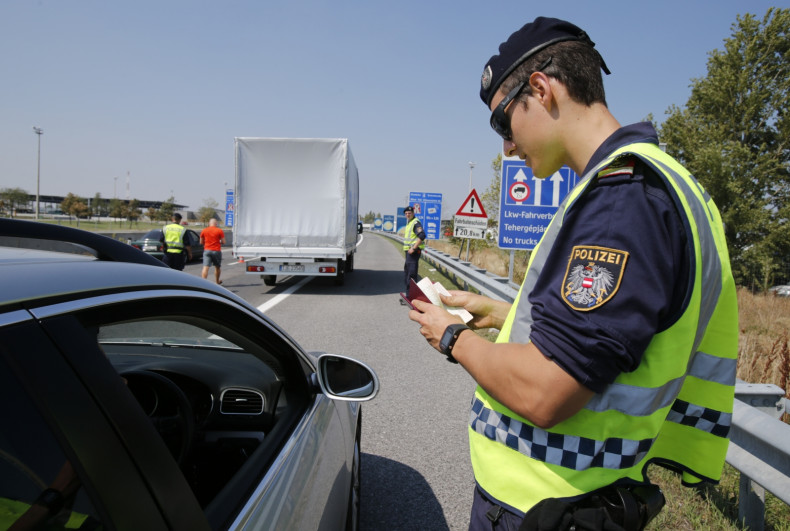 Austrian authorities have detained five suspected people traffickers as the migrant crisis across Europe continues unabated. The smugglers are reported to have been arrested as part of an increased initiative to bring those behind the practice to justice concentrating on a border hot spot in the east of the country.
More than 200 migrants have now been released from vehicles overnight, according to Austrian authorities. The liberation follows the discovery of 71 dead refugees packed into the back of a refrigerated lorry that was found abandoned by its driver in Austria on 27 August. The vehicle was found on the hard shoulder of a highway near the eastern town of Parndorf close to the border with Hungary and Slovakia.
Austrian interior minister Johanna Mikl-Leitner has now ordered the countries' authorities to clamp down following the tragedy, ordering all larger vehicles, with significant room to smuggle migrants to be stopped and processed by the police. The Austrian police had warned the minister that the tragedy "could repeat at any time" due to the volume of vehicles attempting to cross Austria's borders.
Three Syrian children and their families who were rescued from a minivan containing 26 migrants have also gone missing from a hospital in the Austrian town of Braunau am Inn on the German border where they were taken suffering from effects brought on by severe dehydration. The driver of the van, a Romanian national, was arrested at the scene. The two girls and a boy were reported to have been crammed into the van with migrants from Bangladesh, Syria and Afghanistan. The van was pulled over after a chase involving Austrian police.
Representatives from the European Union will hold emergency talks in Brussels on 14 September to find a solution to attempt to find a solution to the deepening European migration crisis.
Luxembourg, the current presidency head of the EU, said in a statement that migration across western Europe had reached "unprecedented proportions", and that the meeting would "discuss the next steps" in tackling the situation.
The UK, France and Germany have all called for an emergency summit of EU ministers. In a joint statement the countries called for the EU to "take immediate action" to deal with the challenge from the migrant influx. A record 107,500 migrants reached EU borders in July, eclipsing the 70,000 asylum seekers recorded in June.