Autumn Statement 2014: George Osborne gives the illusion of Santa but his sack is empty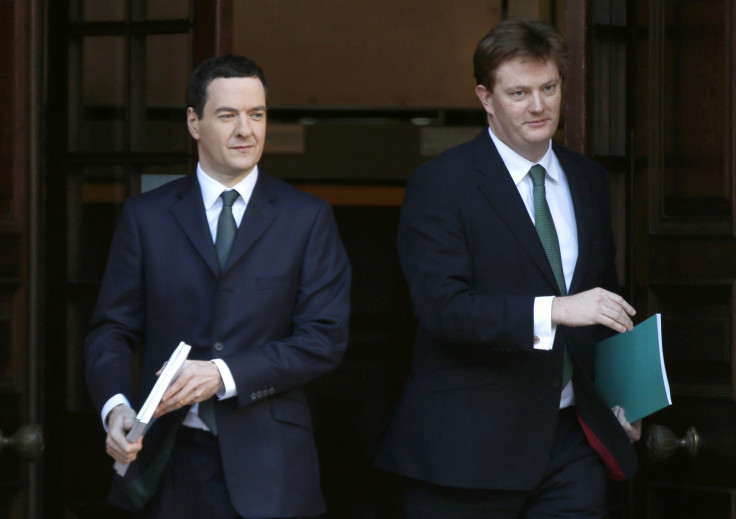 George Osborne spoke for an hour in his 2014 Autumn Statement, but it was within the first couple of minutes that he had smuggled out the glum central point.
Very early on he said that this would not be a net giveaway. In fact, despite his principle of fiscally neutral budget making, this Autumn Statement will actually "tighten the finances a little". And he is spending £10bn less in 2014/15 than he had originally said he would.
Not that it stopped him making the rest of the hour seem like magical Santa Osborne was plucking gifts from an empty sack this Christmas, with all the pomp of a shopping centre grotto.
For the elderly, he scrapped taxation in ISAs and pensions passed on to family when the owner dies. Parents got the abolition of air passenger duty for under-16s. Car drivers unwrapped the ongoing freeze on fuel duty, even as oil prices fall.
Something for the hard-working adult: the personal allowance will go up by £100 more than previously thought, hitting £10,600 in 2015/16. And the earnings threshold for the higher rate of income tax, which is 40%, will rise with it.
For the homebuyers? Stamp duty on property purchases, an antiquated and deeply flawed tax system, is being reformed so most homebuyers will face a smaller bill.
Small firms got a review of the business rates system, though campaigners wanted a complete overhaul to be announced. And they got an extension of the Funding for Lending Scheme, which makes business credit easier to access. Not that this costs the government anything.
Similarly, the £2bn extra funding for the NHS comes from banking fines and money diverted from elsewhere in the Department for Health, not an increase in spending.
Osborne also said he'd crack down harder on tax avoidance, with new measures to tax corporate profits artificially shifted abroad and limiting the amount of tax banks can avert by offsetting current profits against past losses.
He said he will raise billions from these measures, but tax accountants are clever people who will already be working their way through new loopholes.
Some of the statement was just last year's presents wrapped up again. Billions of capital investment is going into the roads and flood defences, much of this was previously announced. What we got is details on where and what, not extra spending.
And some of it was just gift-wrapped emptiness. Osborne unveiled a sovereign wealth fund for the north of England with money from any shale gas production in the area.
The problem is, nobody knows when or if energy firms will get shale gas out of the ground. Even if they can, it will take years before money starts flowing.
Osborne even managed to make the OBR figures sound like a gleaming vindication of his time at the Treasury. The UK economy will grow by 3% in 2014, says the OBR, the fastest rate in the developed Western world. Fair enough.
But tax receipts are much lower than expected, suggesting the economy isn't quite as healthy as the headline figures say it is. Wages won't begin meaningfully increasing until mid-2015. All this means that borrowing in 2014 has been £91.3bn, well above the £86.4bn previously forecast.
The deficit, when measured as a percentage of GDP, is falling. It will be equivalent to 5% of GDP in 2014/15 after falling by half since 2010. And it won't be completely erased until 2018. Moreover, debt as a share of GDP is still rising because of the deficit. It will peak in 2015/16 at 84.1% of GDP, before falling.
You might ask what's wrong with all that? The numbers are going in the right direction. Which they are. But when Osborne came in to power he made two bold promises. That he would erase the deficit and get the debt falling within one parliament. He has failed on both those counts.
In fairness, he has faced unforeseen hurdles, including the eurozone crisis which has hindered UK trade. But Osborne cannot completely wash his hands of responsibility. His brand of austerity, which relies almost exclusively on public spending cuts rather than tax rises, sucked money out of the economy at a time when it needed it most.
And there's much more austerity to come. For those who think the tough times are over, Osborne said he won't hide that there needs to be more "very substantial savings in public spending" in the coming years. In 2015/16, a further £13.6bn of cuts will be needed. The same again the year after that. And the year after that.
There was more misery for welfare recipients, who have borne much of the public spending cuts. Work allowances under Universal Credit will be frozen for another year, meaning a real terms cut. The freeze on working age benefits will go on for another two years. These won't be the last of the welfare cuts.
Osborne finished his statement with the assertion that his long term economic plan had put the UK "on course to prosperity" because the OBR is forecasting solid growth each year to 2019.
But this Autumn Statement wasn't about the long-term. It was about the short term: a general election is just six months away. Without veering from his central course of a tight public budget, Osborne created the illusion of a bumper Christmas haul. Like Santa, though, it doesn't really exist.
© Copyright IBTimes 2023. All rights reserved.