Avon Rubber anticipates making further progress in FY 2012 despite an uncertain outlook for global defence spending, as the timing of filter deliveries is likely to result a greater second half year weighting.
The high tech rubber products provider is scheduled to release its half year results for the period ended March 31, 2012 on Wednesday. Analysts meeting will be held at Weber Shandwick at 9.30AM BST.
The gas masks and dairy products company is expected to deliver substantial growth in its Protection & Defence business, despite the weak economic environment since 2008. It will speed up its investment in new products and technologies and will also focus on operational efficiencies in 2012 to deliver further growth and operating margin improvements.
The group's dairy business is well placed along with the long-term growth potential and it has opportunities to further improve profitability by developing its strong Milk-Rite brand in developing global markets and by enhancing its product portfolio, said Avon Rubber.
"Our strategy of developing both our rapidly growing Protection & Defence business and our high margin and cash generative Dairy business has proved successful. Despite an uncertain outlook for global defence spending we expect to make further progress and accordingly have accelerated our investment in new product development," said CEO Peter Slabbert.
Avon's balance sheet remains strong with net debt of £7.0 million at December 2011 due to the timing of working capital movements. It is expected that the net debt will increase in half year due to the working capital requirements to fulfill the filter orders as well as further acceleration in its programme of investment in product development.
The group has orders for Protection and Defence from the US Department of Defense (DoD) which will enable the company to deliver higher volumes of the M50 respirator in FY2012. In December 2011, the group has been awarded with a five year contract for the M61 filter evaluated at $176 million with an initial $2.5 million for immediate delivery.
Avon expects delay in deliveries for this orders as the losing bidders in a tender have raised a contractual protest to the DoD, although its expectations of deliveries for the full year remain unchanged.
The group has also commenced a new program of product range expansion and enhancement (Project Fusion) which is expected to provide further organic growth from 2013.
Below is a summary of sector comparisons in terms of price earnings, earnings per share, dividend per share, dividend yields, return on equity and price-to-book ratio. The table explains how the company is performing against its peers/competitors in the sector.The table below represents top ten companies based on market capitalisation.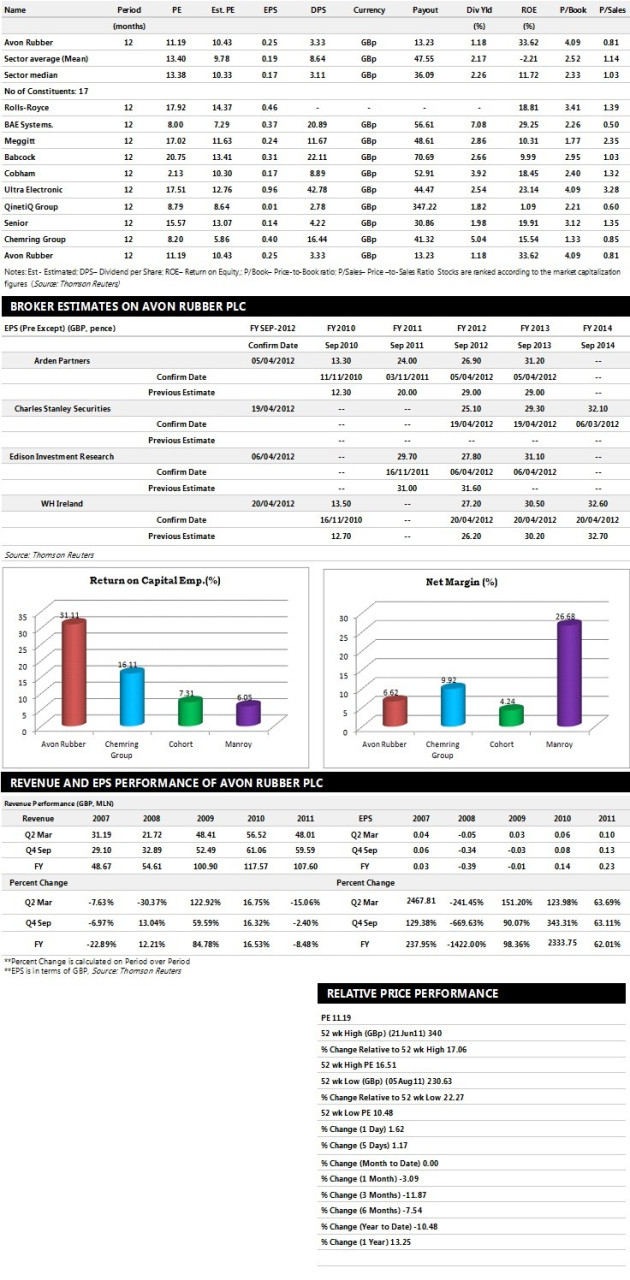 Brokers' Views:

- WH Ireland assigns 'Buy' rating with a target price of 370 pence per share
- Charles Stanley assigns 'Outperform' rating with a target price of 320 pence per share
- Arden Partners recommends 'Buy' rating with a target price of 308 per share
Earnings Outlook

- WH Ireland estimates the company to report revenues of £110.70 million and £119.80 million for the FY 2012 and FY 2013 respectively with pre-tax profits (pre-except) of £11.30 million and £13.00 million. Earnings per share are projected at 27.20 pence for FY 2012 and 30.50 pence for FY 2013.|
- Charles Stanley expects the company to record revenues of £108.70 million for the FY 2012 and £124.30 million for the FY 2013 with pre-tax profits (pre-except) of £11.00 million and £12.90 million respectively. Profit per share is estimated at 25.10 and 29.30 for the same periods.
- Edison Investment Research projects Avon Rubbers to earn revenues of £115.60 million for the FY 2012 and £124.00 million for the FY 2013 with pre-tax profits of £11.50 million and £13.20 million respectively. EPS is projected at 27.80 for FY 2012 and 31.10 for FY 2013.