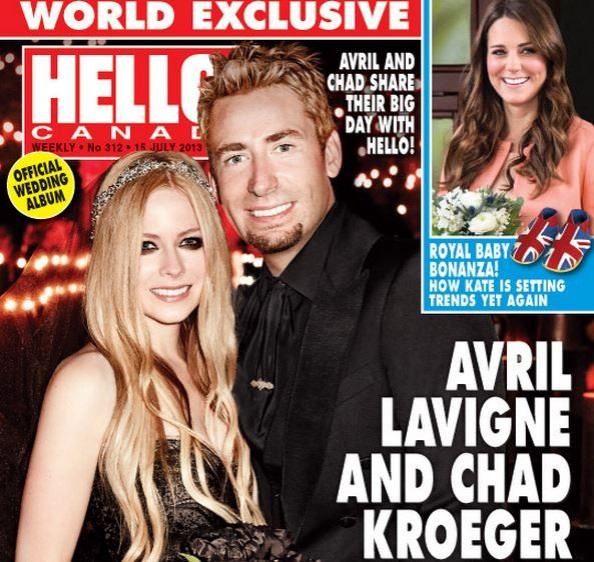 It was previously reported that singer Avril Lavigne tied the knot with Canadian rock band Nickelback's lead singer Chad Kroeger in the South of France on 1 July.
Hello! Magazine has released the first picture of the couple's wedding in their latest issue and the 28-year-old singer is seen in black tulle Monique Lhuillier gown, a bouquet of black roses and a silver headpiece.
"I wanted to make sure it's a crazy vacation and an experience of a lifetime for our guests," she told to the magazine, "It was very natural. We were friends having a good time and then it just happened."
Kroeger proposed Lavigne on 8 August 2012 with a 14-carat diamond ring.
"It felt like fate was intervening and I was just being given this wake-up call: don't let this one get away. I've been planning this wedding for a really long time. I showed him everything and he let me take the reins and bounce ideas off of him," she added.
This is first wedding for Kroeger, who spent six years with Marianne Goriuk, a former Alberta hair salon owner,
"When you've got that ring on your finger that you get to look at every single day, and you get to call that other person husband or wife, it's a really special feeling," Kroeger said.
Avril Lavigne's Black Wedding Gown Wish
The What the Hell singer, who was previously married to Sum 41 frontman Deryck Whibley, had expressed her wish for a gothic-themed wedding.
"I wanted to be like, 'Oh, let's totally have a rock 'n' roll, goth wedding,'" Lavigne told Jane magazine (which has now discontinued) in 2007, "But at the same time I was like, 'I've been dreaming about my wedding day since I was a little girl. I have to wear the white dress.' I wanted to be a princess, okay?"
"People thought I would have done, like, some black wedding dress, and yeah, I would have. But at the same time I was thinking about our pictures. ... I didn't want to be, like, 20 years later, 'Oh, why did I wear my hair like that? It's not cool now,'" she added.