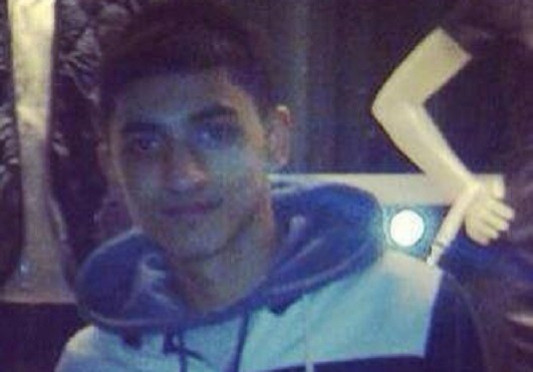 A teenager was stabbed to death on his first day of college after a row on a bus in Birmingham.
Azim Azam, 16, was on his way to begin a course at Bourneville College when he was killed. He was knifed by a fellow teenage passenger after stepping off the number two bus at a stop.
The victim staggered 20 yards before collapsing in the street. Medics and bystanders tried to help but could not save his life.
In the wake of the killing, tributes poured into Azim on social media.
Joanna Spooner said: "Fly with the angels azim.....so so sad and such a waste and for what reason? rip."
Abda Abby Rehman wrote: "Must have been a proud day for his family, first day at college and then someone rips their heart out."
Friend Mick Southall told the Mirror: "I've not stopped crying all day.
"My friend was on the same bus as him and phoned me to say he'd had an argument with someone.
"She didn't know what happened but said Azim was getting off the bus with this bloke.
"I can't believe it, he was a lovely bloke, would do anything for anyone.
"It's unbelievable anyone would be carrying a knife on a bus at that time of day."
Police are appealing for witnesses to come forward. Azim is the fourth teenager to be stabbed to death in the West Midlands in the past six months.
Det Sup Int Mark Payne said the killer would be caught. "We will arrest the person responsible for this and they will spend a large portion of their life in jail," he told BBC WM radio.
He asked for witnesses to come forward: "We really need people to come forward who were on the number two bus. We are still missing people who were on that bus.
Payne denied the West Midlands had a knife crime problem. "We're dealing a tragic stabbing of a young boy. What we do know if statistically knife has fallen and continues to fall. "
On Facebook, some users said there was a problem. Candy Perze wrote: "Too many stabbings in birmingham.. People need to drop the knifes and be a man. Beautiful tributes for a beautiful soul who died so tragically young. he didn't deserve the death that he had it's really unfair that you died in the way you did."