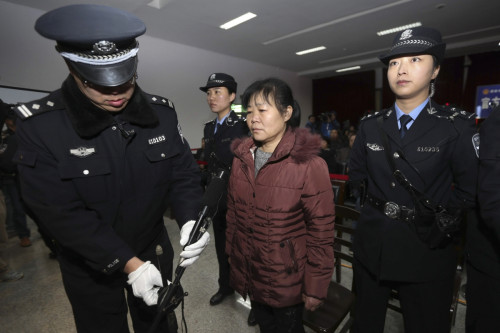 A Chinese obstetrician has admitted in court that she took newborn babies away from their mothers at the hospital where she worked and sold them to child traffickers.
Zhang Shuxia, 55, appeared before a court in northern Shaanxi province's Fuping county and pleaded guilty to charges that she trafficked seven babies, including two twin baby girls.
The doctor conned parents into giving up their healthy children by persuading them that the babies had a congenital disease or other serious illness.
Zhang apologised to the families and claimed she was deceived by an accomplice into believing she was helping families in need, the Global Times newspaper reported.
The scam was was exposed in July after the parents of a baby delivered by Zhang at the Fuping Maternal and Child Health Care Hospital lodged a police complaint.
They became suspicious after Zhang claimed that the baby was sick and talked them into paying a 100 yuan (£10) charge for him to be taken into hospital care.
Police found out that baby had changed hands four times and was finally sold by traffickers for 60,000 yuan to a farmer in the central Henan province.
As the story emerged other families realised they had fallen victim to the scam.
One mother said that Zhang had persuaded her not to see her twin daughters after delivery, claiming they had broken arms and legs.
Police suspected Zhang was involved in 26 similar incidents.
Zhang could face the death penalty for selling seven babies between 2011 and 2013.
Six have been recovered but one had died before being rescued by police. He had been trafficked for less than £100.
Trafficking of children in China has been fuelled by the country's recently reformed "one-child" policy. It has been estimated that human traffickers seize 200,000 children from their families every year.