It will feel like the 1990s once more when the Bad Boy Records family reunites on tour this summer. Record label boss P Diddy has announced a series of live shows featuring performances from Bad Boy artists of past and present, including Faith Evans, Lil Kim and Mase.
Originally starting as two special concerts in celebration of what would have been The Notorious BIG's 44th birthday on 21 May, the shows have been extended to form a full tour in memory of one of the most iconic hip-hop labels in history. Bad Boy Records has a place in history alongside the likes of Death Row Records and Aftermath Entertainment – but what makes Diddy's imprint so vital?
After working as an A&R executive at Uptown Records, Diddy, real name Sean Combs, decided to launch his own label in 1993 and Bad Boy Records was formed. The label hit the ground running with Biggie Smalls' release Juicy, one of its earliest singles and future classic, in 1994. Biggie also dropped his debut album Ready To Die under Bad Boys, which became the only album released before his death in March 1997.
With Biggie on its roster, Bad Boy found itself at the centre of the notorious west coast vs east coast feud. The success of Diddy's empire caused a rift with other rival labels, most notably Suge Knight's Death Row Records, which Tupac Shakur would later sign to. Tensions began to simmer when Tupac accused Biggie, Diddy and Andre Harrell of orchestrating his shooting in Manhattan, New York, in 1994.
The allegations were fuelled when Biggie dropped the track Who Shot Ya? shortly after, but Diddy insisted the song was recorded before Tupac was injured. The row escalated and reached a threatening level when Knight used the stage at the Source Awards in 1995 to throw a direct jab at Diddy. The music executive told the audience: "Any artist out there that want to be an artist and stay a star, and don't have to worry about the executive producer trying to be all in the videos... all on the records,dancing... come to Death Row!"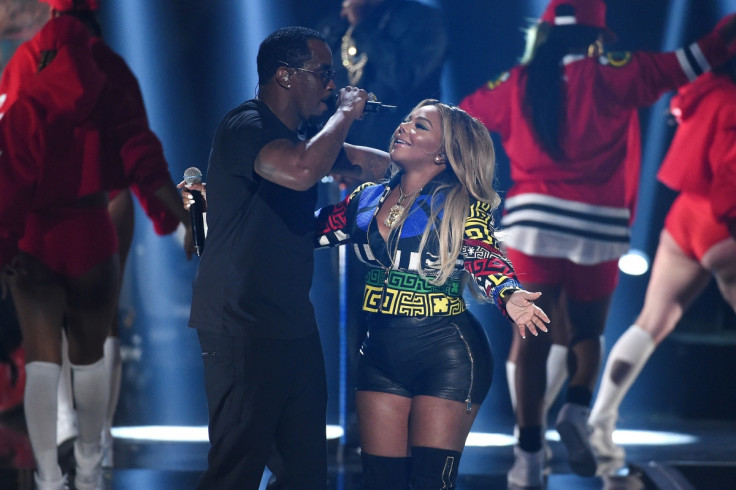 There could be no doubt in anyone's minds as to whom this message was in reference to – every hip-hop fan worth their salt knows Diddy loves a good shimmy in the music videos. What ensued was a constant trade of subliminal and sometimes direct insults between Bad Boy and Death Row's two prime artists, but it would have a fatal end. Tupac was shot and killed in a drive-by shooting in September 1996 but Bad Boy was truly rocked to its core when Biggie died in similar fashion in March 1997 at the age of 24.
Biggie was not only Bad Boys' prime artist, he was also Diddy's best friend and Faith Evans' wife. Despite the tragedy, Bad Boy Records remained united in memory of their friend and released I'll Be Missing You two months after Biggie's death.
Even in death, Biggie was able to keep Bad Boy Records afloat with his posthumous albums Life After Death and Born Again reaching number one on the US Billboard 200 chart. However, the money train began to run out of steam and the label began to stumble in the early 2000s.
The music landscape had changed but Diddy refused to give up and ushered in some new blood to revive Bad Boy Records. R'n'b singer Cassie, now the mogul's longtime girlfriend, Yung Joc and French Montana are among the younger artists who gave Bad Boy Records a facelift. In 2015, the label found a new home in Epic Records.