Great British Bake Off winner Nadiya Hussain has been quietly cooking up a new project, landing herself brand new show about food and travel.
Hussain, who recently baked a cake for the Queen's 90th birthday celebrations, has revelled in her new celebrity status since wowing Bake Off fans with her culinary skills. She has since landed a deal with The Times magazine as a columnist, along with penning her own cookbook and becoming a regular face on the small screen.
Now, the talented cook will take on her own two-part television show, entitled The Chronicles of Nadiya, where she journeys to Bangladesh in search of her gastronomic roots. She'll be filmed cooking exciting dishes and learning new recipes, along with an insight into how she feels the country has changed since she got married there a decade ago.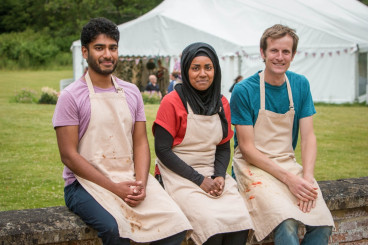 Patrick Holland, head of documentary commissioning, said: "Nadiya's story on Bake Off touched the hearts of the nation."
He added: "We are delighted that she will be using her cooking skills to take us on a journey to such an extraordinary and changing land."
The documentary will see Hussain travel from Luton – where she was born – to a rural village in Bangladesh, cooking flavoursome, aromatic dishes and sharing them with family and friends. It will be produced by Love Productions, who also created the Bake Off.
Hussain, 31, became a keen amateur baker after learning basic cooking skills at school, later going on to develop techniques by using recipe books and YouTube videos. Her mesmerising showstopper cake in the Bake Off final wowed judges Mary Berry and Paul Hollywood, and she has been a big hit with the British public for her personality along with her cake-making abilities.
A broadcast date for The Chronicles of Nadiya has not yet been stated.