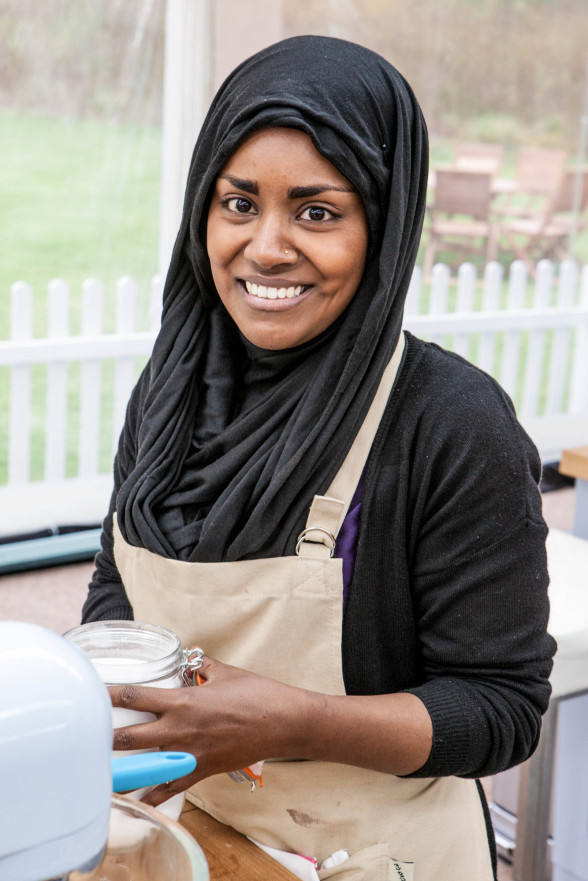 Great British Bake Off winner Nadiya Hussain was left red-faced after she swore on day time TV show Loose Women. The 31-year-old was forced to apologise after she made the inappropriate comment while discussing the size of her husband's posterior.
Appearing as a guest panelist, the mother-of-three earlier joked that her husband was a little concerned about her appearance on the show, as she became an honorary Loose Woman for the day. As the panelists discussed the subject of proposals, describing her arranged marriage to Abdal, Mrs Hussain revealed what she noticed the first time she met her husband, the day before the couple married.
"I didn't see him very well but my sisters did and they went downstairs and said 'oh my god he's so good-looking' - but he's got an enormous butt," she said. "So now, when I met him for the first time, the first thing I wanted to look at was his butt. So I was like I've got to check if this a*** is as huge as I think it is."
Presenter Andrea McLean quickly interjected, saying: "I apologise for the use of that word at lunchtime" while an embarrassed, Mrs Hussain, realizing her faux pas said: "Oops, sorry!"
The Bake-Off champion spoke candidly about her marriage to Abdal, which was arranged by both their fathers. She was 19 when they married, after having met only twice. She said she has found happiness with the 34-year-old, who became something of a heartthrob on social media after appearing on the final of the baking show . However, she added that she would not expect her children to have an arranged marriage.
It was "a lot harder than I thought", she explained. "It's very different to what my life was 11 years ago and things will change for them. I do not need the hassle of finding them a husband or a wife. I don't need that. I'd happily let them go and find their own partners."
She also revealed that becoming a mother for the first time was initially a shock to the system. "I had my husband at home for four weeks and I was in that bubble for a while and he was at home and he did all the nappy-changes and I did the feeding and then the day he went back to work I felt like my world had collapsed, I did not want him to leave.
"I cried and I said: 'How am I supposed to look after him on my own?' and he said 'You're doing a fantastic job', but I think when you're a parent, when you're a mother, it's such a tough thing to do."
She also drew laughs from the audience after she shared her inventive way of coping with the pain after childbirth. "I had him and then I had some stitches afterwards, so it was just awful and I was home within 12 hours of having him, the same day. The drugs hadn't worn off. So I got home and by 9 o'clock, I said 'freeze those ice lollies because I am in agony?'. It was really, really bad."
Asked about the use for the ice lollies she said: "Use your imagination, do I have to?!"
Despite her accidental use of profanity, Nadiya was a hit with the audience and was praised for her good humour, with fans calling for her to be made a regular panelist. Nadiya is amazing! So funny", said one viewer. "Hope she is on regularly," said another.
The Great British Bake- Off star was hailed a national treasure after winning the nation's hearts, both with her inventive bakes and her witty one-liners. Following her success in the series, Nadiya was dubbed a "poster girl" for "being British and being a Muslim" and her victory in the Great British Bake Off was hailed as a triumph for multi-cultural Britain.