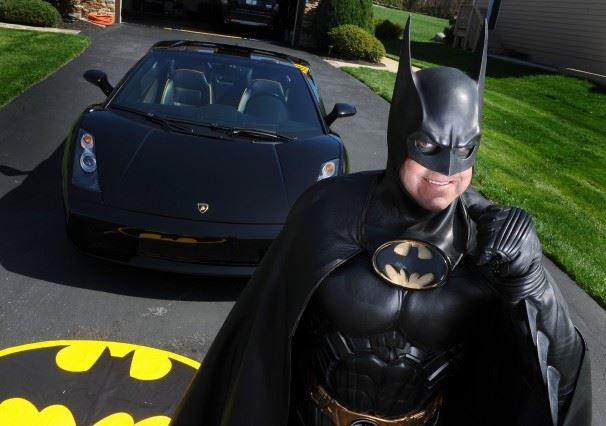 The Maryland superhero imitator shot to fame when dashcam video of police pulling him over in his Batmobile went viral. He was dressed in full Batman regalia at the time. Leonard Robinson was hit by his own Batmobile after another driver smashed into it, according to an AP report.
Robinson was having engine trouble and stopped "partially in the fast lane," according to a state police news release.
He was checking the engine when the Batmobile was struck by a Toyota Camry. The 'Batmobile', a black Lamborghini, then hit him. Robinson was pronounced dead at the scene. The driver of the Toyota was unhurt but declined to comment.
The superhero impersonator is said to have spent over £16,000 of his own money each year on Batman toys for sick children. He began visiting hospitals in 2001, occasionally accompanied by his son, Brandon, who played the superhero's sidekick, Robin.
Hope For Henry, a charity for children battling cancer, was often the beneficiary of Robinson's generosity. Spokesperson Laurie Strongin said: "He made so many kids so happy. When I asked him to do anything, he always said yes."
"He touched a lot of lives and made a lot of kids smile," his younger brother, Scott Robinson, told the Washington Post after his death. "That's all he wanted to do."
Robinson had made a fortune after selling a cleaning business he started as a teenager, and decided to use the money for good.
He became interested in Batman through his son Brandon, who was obsessed with the caped crusader when he was a boy. "I used to call him Batman," he told The Washington Post. "His obsession became my obsession."
Robinson dressed in full Batman regalia including heavy leather and neoprene uniform that he bought from a professional costume maker.