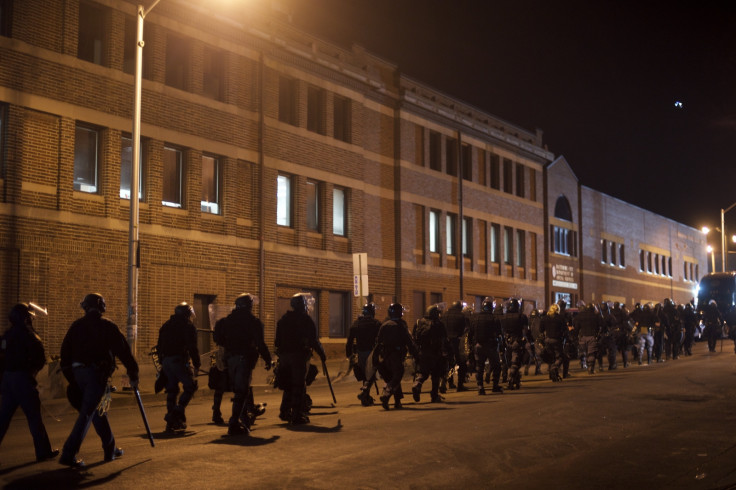 There was unrest in Baltimore overnight as protesters broke a citywide curfew imposed between 10am and 3pm, but a repeat of Monday's widespread violence was prevented.
Ten people were arrested in sporadic unrest after last night's curfew, police said. In South Baltimore, one officer was injured after a crowd threw rocks and bricks, according to police.
There were no reports of serious fires like the previous night, which saw buildings and dozens of vehicles torched, as well as 235 arrests and 15 officers injured.
In the west of the city a festival like atmosphere was reported, and police deployed pepper spray on demonstrators after isolated skirmishes.
Overnight, two people were arrested for looting, one for disorderly conduct, and seven for violating the curfew, police told AP.
Baltimore Police Commissioner Anthony Batts declared the curfew a success.
"We do not have a lot of active movement throughout the city as a whole. ... Tonight I think the biggest thing is the citizens are safe, the city is stable," . "We hope to maintain it that way."
Throughout Tuesday peaceful protesters formed a 'unity line' to shield police from violent demonstrators.
"We show that we can police ourselves," one man forming the line told CNN.
"We're about positivity here in Baltimore. It starts with us. This long line of people came out here because what we seen on TV yesterday, we didn't like it."
Presidential hopeful Hilary Clinton is to advocate overhauling the US justice system and will call for the use of police body cameras to build community trust in a speech today, reports AP.
Clean up efforts are scheduled to take place again today and the city's schools to re-open.
The Baltimore City Orchestra is to hold a free concert in support of the community.
The city's baseball team, the Orioles, are scheduled to play the White Sox in an empty stadium, as the public was banned from attending the match for the first time in baseball history.
In the wake of Monday's unrest, a huge number of soldiers and state troopers were deployed on the orders of state governor Larry Hogan.
More than 1,700 US troops and airmen were deployed in the city, and 400 state troopers helped to support police, reports the Baltimore Sun.
Mayor Stephanie Rawlings-Blake praised the solidarity of the community in Baltimore in the wake of the riots.
"I think we saw a lot more of what Baltimore is about," she said. "We saw people coming together to reclaim our city, to clean our city, and to help heal our city. I think this can be our defining moment."