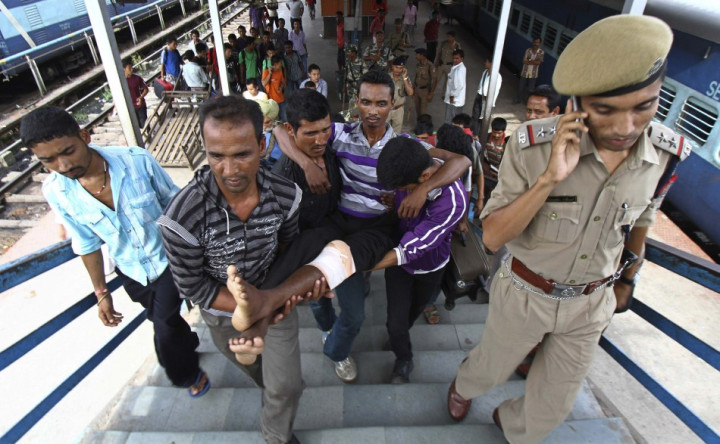 Police have arrested five people in Bangalore, India, in connection with the recent spread of warnings of violence against migrants from the north-eastern states of India residing in the city.
Over the past few days, students and workers from the north-east of India have been fleeing the southern states fearing retaliation after an outbreak of ethnic violence in Assam, in India's north-east. Panic has been created by threats spread by text messages and through the internet.
At least 80 people have been killed in outbreaks of violence between Muslims and the Bodo people of Assam.
In a bid to halt the spread of threatening messages, the Indian government has instructed all relevant agencies to monitor and block inflammatory or offensive content from social media platforms. Mobile phone operators have been asked to block all bulk text messages and videos for two weeks, restricting them to five people at a time.
"We want to send out a message to all those who want to jeopardise our unity that this House stands united and we will work together to control the elements who want to create trouble," Indian Prime Minister Manmohan Singh told parliament.
Nearly 100,000 people from the north-eastern states live and work in Bangalore and nearby towns such as Mysore, which have been hit hard by the rumours.
Four special trains have already left for Guwahati, the capital of Assam, in the past two days from Bangalore. Another train is scheduled to leave on Saturday August 18.
Politicians, police officers and community leaders have met with thousands of students leaving Bangalore at the city's main railway station to reassure them of their safety.
Helplines have been set up in Hyderabad (040-27852333 and 23261166), Bangalore (080- 22250999, 080-22942222) and Chennai (09840295100, 09677066100 and 09789088100).
Meanwhile, armed forces including the Rapid Action Force (RAF) and Central Reserve Police Force (CRPF) have conducted flag marches through panic-stricken areas to restore confidence among the people.
"Around 600 RAF personnel will be deployed in Bangalore, Mysore and Mangalore. The RAF will be in addition to a Karnataka State Reserve Police battalion," Karnataka Home Minister R Ashok told the Times of India.
The state government claimed that the situation was under control and the number of people fleeing the city had fallen dramatically. Train bookings to Assam have dropped to 2,000 from 16,000 over the last two days.
In separate incidents, eight people from the region were attacked in three different localities.