Thai police have released the first photos of a man arrested in connection with a deadly bombing at Bangkok's Erawan Shrine. The suspect, a 28-year-old foreign national, was held at an address in Nong Jok, an eastern suburb of the capital.
Detectives said they found explosives and numerous travel documents, including a Turkish passport reportedly in the name of Adem Karadag, at the premises. The document is believed to a fake, leaving his name and nationality still unclear. Police said they were not sure as to whether the man is the same one who was filmed leaving a backpack at the site of the explosion by a security camera.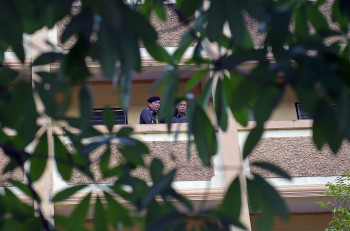 A detailed sketch of the suspect released after the attack doesn't bare much resemblance to the arrested man. National police spokesman Prawut Thavornsiri however initially said he looked "the one we are looking for".
"From our preliminary checks, he is related to both bombings… We believe he is a culprit in the same network," Prawut added later.
The large quantity of bomb-making materials retrieved during the raid included detonators and a metal pipe with lids, apparently meant to be used as bomb casings. They also found ball bearings of the same type of those used in the attack, left police confident the suspect was involved in the incident, according to police chief General Chaktip Chaijinda.
About 100 officers took part in the arrest operation that was triggered by a tip-off. Local media quoted neighbours as saying the man had rented a room in the apartment building searched by police in July and didn't speak Thai.
The 17 August blast killed 20 people. The victims included many tourists that were visiting the Hindu shrine, which is also popular with Buddhists devotees.
No one has claimed responsibility for the attack but authorities said the suspected bomber was part of a wider network. Fingers have been pointed at Uighur militants from north-western china, and Islamists from Indonesia, but no conclusive evidence has so far emerged. The suspect is being held for questioning by the military.