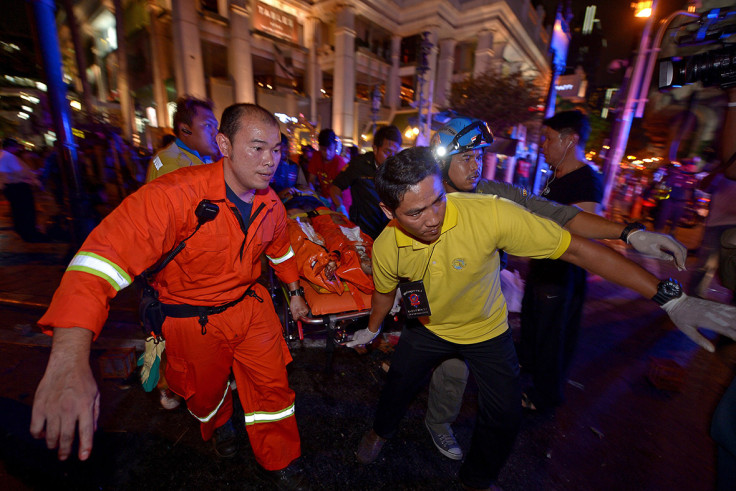 Thai police are believed to have located and deactivated a second bomb in Bangkok's Ratchaprasong near the popular Erawan Shrine, where a large explosion killed at least 15 people and injured other 78. The Bangkok Post reported that a second device was found about an hour later. Police's disposal team managed to deactivate it safely.
The report was confirmed by AP, which quoted Maj. Gen. Weerachon Sukhondhapatipak, a spokesman for Thailand's ruling junta, as saying that at least two bombs were found at the scene. The first bomb was found inside the shrine compound, while the second was found opposite the complex.
Police and ambulances called to the central Ratchaprasong intersection after the bomb went off around 7pm local time (12 noon GMT). Local police said the bomb could have been hidden in a motorcycle.
Local TV reports that volunteer translators, especially Chinese, are needed at Bangkok hospitals as many of the injured are tourists. The Hindu shrine is also popular with Buddhists and Chinese tourists and is likely to have been busy at the time of the explosion.
A Thai blogger quoted a national police spokesman as saying that the source was an IED (Improvised Explosive Device) and two more bomb were reported nearby. The shopping mall has been shut down.
Just after the bomb blast, national police chief Prawut Thawornsiri told Reuters: "We are now looking for another two to three bombs as we have found one suspicious object.There could be another explosion, so we have blocked off the crime scene and are asking bystanders to move back."
The Erawan Shrine
The Erawan Shrine was built in 1956 as way to appease the land spirits during the heavily delayed construction of the luxury Erawan Hotel. Despite being a Hindu shrine and featuring a statue of Phra Phrom, the Thai representation of the Hindu creation god Brahma, it is hugely popular among Buddhist and tourists alike in Bangkok. In 2006, a man was beaten to death by bystanders after he vandalised the shrine and destroyed the statue with a hammer.