Bangladesh child with rare 'old man' illness baffles doctors as he is admitted to hospital
The 4-year-old has problems with his heart, ears, eyes, and penis.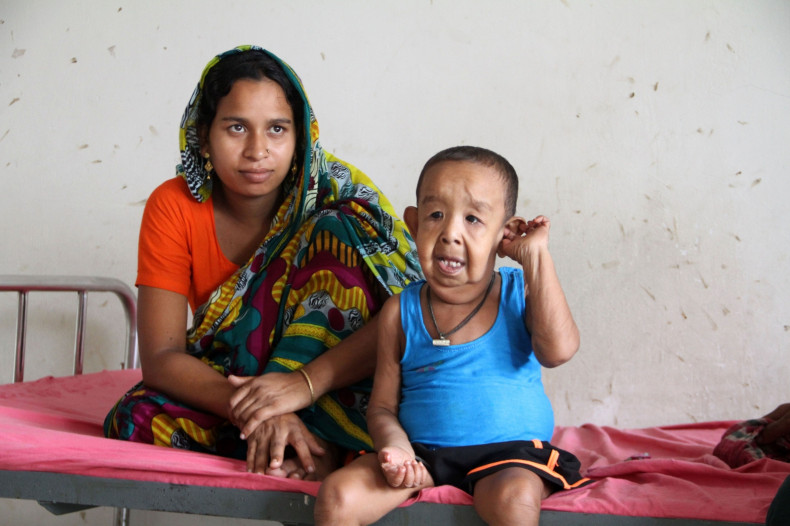 A four-year-old in Bangladesh has been admitted to hospital due to a rare illness that makes him look like an old man. Doctors at the Dhaka Medical College Hospital have been attempting to treat Bayezid Shikdar for free, however, they have been unable to cure the problem.
Excess skin hangs from Shikdar's face, arms and legs, causing it to sag. The child also suffers from related heart, sight and hearing problems and medical experts in Bangladesh have unsuccessfully attempted to explain the condition.
The boy's father, Lablu Shikdar, told the Economic Times: "We sold our land to treat him at local hospitals. We also took him to religious healers and herbal doctors. This hospital is our last hope. We hope they'll make him look like any other normal child."
Doctors at the Dhaka Medical College initially thought the condition was progeria, which causes rapid and premature ageing shortly after the child is born and leads to health complications. The rare genetic disorder featured in the movie The Curious Base of Benjamin Button, which raised awareness about the condition around the world.
However, doctors have expressed caution at jumping to this conclusion and have said that tests are needed in order to determine exactly what is going on. Some medics believe that it could be a genetic condition that has resulted due to inbreeding, which is popular among cousins in Bangladesh.
"In progeria, the ageing process accelerates with time," Abdul Kalam, head of the hospital's burns plastic surgery unit. "But Bayezid's parents have said the ageing of this boy has halted recently. He has shown signs of improvement. He also has problems in his heart, ear, eyes and penis."
Meanwhile, the boy's mother, Khatun, said that the first time she saw her son he looked like a bundle of skin. She continued: "We had no idea what he was afflicted with. We thought the condition would go away soon. He is an extremely talented boy. There are days he grabs books and wants to go to school."