Bangladesh court charges 38 people with murder after 2013 building collapse
The Rana Plaza disaster has affected the Bangladesh clothing industry to this day.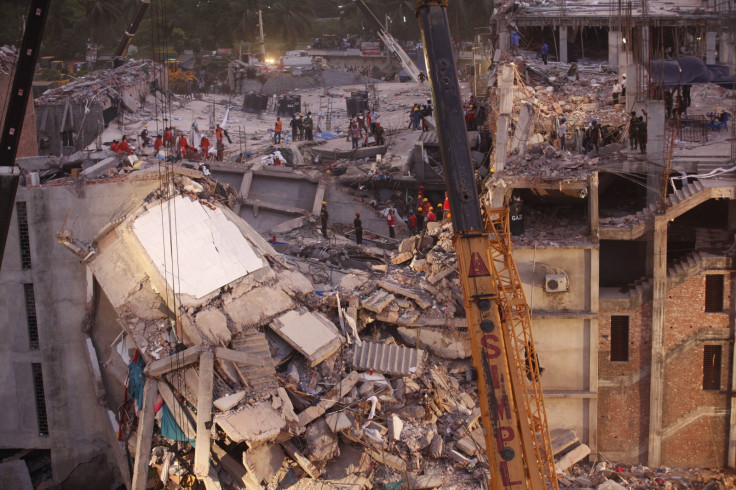 A court in Bangladesh has charged 38 people with murder in connection with the 2013 Rana Plaza disaster when 1,135 people died after a building containing garment factories collapsed in the country's worst industrial disaster. The incident continues to affect the impoverished country as some factories deemed to be dangerous were shut down in the wake of the disaster, but working conditions are slowly improving and wages and union membership among textile workers have risen.
Plaza owner Sohel Rana is the main person to be accused in connection with the 2013 collapse. He tried to flee to India following the disaster and three other people have been charged with abetting his escape, bringing the total to face charges to 41. Rana was one of 35 people in court who pleaded not guilty to all charges. The other six absconded and will be tried in absentia. Those who are found guilty could face the death penalty, according to Reuters.
Five garment factories were located in the eight-storey Rana Plaza, supplying garments to global brands. When the building collapsed on 24 April 2013 hundreds were trapped inside, with survivors pulled out of the rubble for days afterwards. Around 2,000 people were injured.
Survivors attested that on the day of the collapse they had been reluctant to enter the building because visible cracks were forming but were threatened with the sack if they refused.
Bangladesh's $20bn (£15bn) per year clothing industry is second only to that of China, though even now workers are paid just $68 month on average compared with $280 in China. Primark and Benetton were among Western companies who used goods made at the factory and both paid compensation to victims and their families.
Bangladesh was just beginning to recover from the disaster when a group of foreign textile workers were slaughtered by Islamists in Dhaka on 1 July 2016.
© Copyright IBTimes 2023. All rights reserved.