A huge fire reportedly broke out in a factory in Bangladesh on Saturday (10 September) killing at least 15 people, and injuring 70 others. An explosion is said to have triggered the blaze at around 6.15am local time (1.15 am BST), fire official have said.
Local media reports said that around 20 units of fire fighters were deployed at the accident scene to douse the fire that broke out in Gazipur, just outside the Bangladeshi capital.
Nearly 100 people were reported to have been working inside the factory when flames spread through the building. AFP reported that an explosion in the boiler room led to the fire at the four-storey factory, which is located in the industrial town of Tongi, north of Dhaka.
"What we have heard is that there were chemicals stored on the ground floor. As a result, the fire took no time to spread," said Tahmidul Islam of Bangladesh's industrial police unit.
The Daily Star said five of the factory workers died on the spot, while the rest died in different hospitals they were taken to for treatment.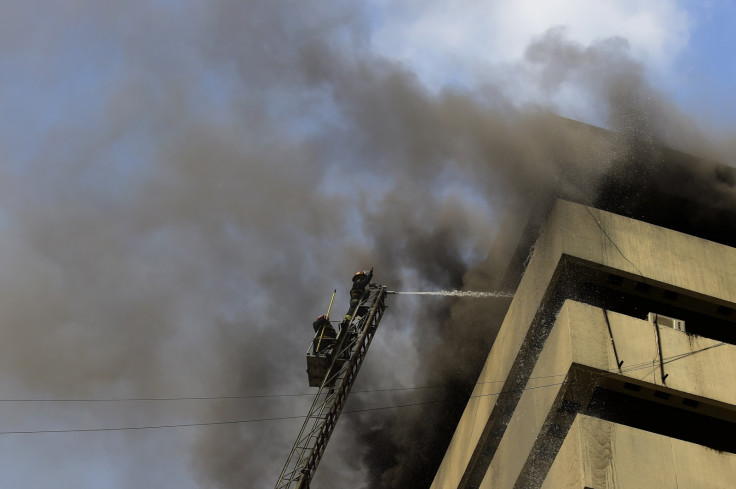 Some of the injured are feared to be in a critical condition and were transferred to hospitals in Dhaka, according to Parvez Mia, a doctor at a government-run hospital in Tongi.
According to Bdnews24, Bangladesh-based online news portal, two floors of the building partially collapsed due to the explosion.
AFP said the factory was producing and printing plastic packaging materials for food items such as potato chips and some household goods like mosquito coils.
Fire accidents have reportedly become a common occurrence in factories in Bangladesh raising safety concerns for workers. The South Asian country's economy earns roughly around $27bn (£20.3bn) through exports of garments and is the world's second biggest exporter after China.
Thousands of such factories supply goods to international clothing chains like Primark and H&M.
In April 2013, a garment factory in the country was hit by a devastating fire that killed more than 1,100 workers. The factory building collapsed when nearly 3,000 workers were trapped inside. The incident was marked as the worst industrial disaster of Bangladesh.