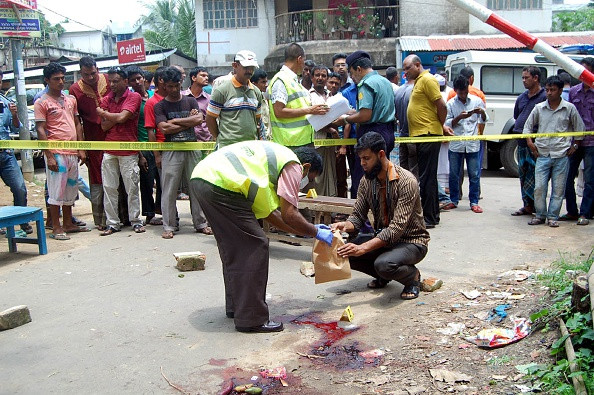 Corruption is like gangrene: you should care and cure it as soon as possible, or face bitter consequences.
We have a culture of impunity in Bangladesh, where criminals and corrupt figures infect others in the judiciary, security forces and the media and where corruption continues to violate the rights of common people.
It is only by conscientious people speaking out – by blogging – that this scenario will change.
Blogging, to me, is the most effective and open weapon right now against impunity and injustice of the state machinery, politicians and civil society. It allows us to expose the monstrous characters in a way that the formal media industry cannot.
As a journalist, I feel that I need to focus on issues that common people are not aware of but lots of the media are either corrupt or afraid of reprisal by the authorities – blogging gives me the courage to speak up and share sensitive information widely.
I am driven by the thought that being silent over gross corruption, political murders, intimidation of innocent people and those who seek justice, as well as police negligence in dealing with cases of rape and sexual assault of women and children, and policies and decisions taken with an evil intention is not the job of a conscious person.
There are many things that I cannot write in a newspaper, and though I try to be factual and true in the daily news reports that I handle, there are sensitive issues that can only be addressed by blogging. Through social media I am able to share these facts with thousands of others.
I feel like my blog is a silent revolution against injustice. I hope that it encourages more and more like-minded people to fight. I think the evidence of this was when whistle-blowing website WikiLeaks released hundreds of thousands of US embassy cables to expose the true face of rulers and influential quarters in many countries including the US.
It showed the extent of corruption of the political, business and judicial realms across the world that would never have been exposed through the media.
Of course, I am concerned about the risks. We have seen rising of intolerance and hatred in the majority population against non-Muslims and atheists since early 2013 and a reluctance of the government to deal with it.
This has led to the deaths of four leading bloggers in Bangladesh over the past year, including Ananta Bijoy Das last week. It is horrifying that the authorities concerned remain silent, deliberately, on the issues of racial discrimination and communal attacks so that those events are not highlighted in media at home and abroad.
Taking advantage of such a state of affairs, the criminals continue to commit such heinous crimes over and over again. Though the radicals have killed four learned secular activists since February 2013 to silence critics of militant Islam – outfits who use incorrect explanations of the Qur'an to justify armed jihad against the democratic state.
That this situation would arise was obvious. The military government led by General Ziaur Rahman allowed anti-Bangladesh Jamaat-e-Islami and promoted religion-based politics in 1979 and the subsequent dictator HM Ershad - now the prime minister's special envoy - in 1988 introduced Islam as the state religion claiming that it would help stopping militancy.
There is another dilemma for the government as well as progressive quarters: the incumbent government in 2011 reinstated secularism in the constitution as it pledged before the elections, but refrained from revoking the contradictory provisions like state religion and religion-based politics in the face of outrage by radical Islamists. It is very unfortunate for the secular activists. Secularism was introduced in the first constitution of 1972 but dropped by the subsequent military government.
It is not wrong to declare a majority Muslim country Islamic, but the subsequent governments have failed to contain the rise of extremists who after fighting wars in Afghanistan, Iraq and other Middle-East countries returned to Bangladesh and raised small groups of militants with the intention of establishing Shariah law here.
Whatever risk it may invite, it is in no way possible for a journalist-cum-blogger like me to remain silent in what is essentially a war between secular forces and extremists; corruption and anti-corruption campaigners; and rapists and men who would defend women.
I believe, we shall overcome some day, even if the state continues its hypocrisy and brutality towards the people. And until we do, I will not stop writing, whatever the cost.
Probir Bidhan is a journalist and blogger based in Dhaka. You can read his blog here.