Bank of England Governor Mark Carney warns of 'lower real income' growth
The BoE decision to drop interest rate cut plans signals the economy has been resilient.
The Bank of England has abandoned plans to cut interest rates, admitting the economy has been more resilient than it expected following the Brexit referendum.
The Bank's Monetary Policy Committee voted unanimously to hold interest rates at the historic low of 0.25% after consumer spending, growth and business activity all stood up to the shock of the UK's vote to leave the European union without a sharp slowdown.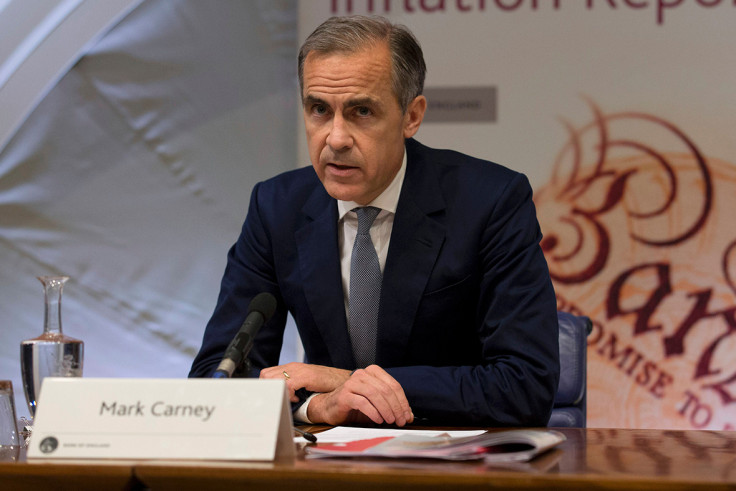 The central bank now says its next interest rate change, whenever it comes, could move in either direction. It had previously signalled that the rate was likely to be cut to 0.10%.
Governor Mark Carney said households "appeared to entirely look through Brexit-related uncertainty."
The Bank of England raised its growth forecasts for this year, and next year. It now says the UK economy will grow by 2.2% in 2016, up from 2% in August.
And for 2017, it now sees growth of 1.4% – sharply higher than the 0.8% it said previously. However, it cut its 2018 growth forecast to 1.5%, from 1.8%.
The Bank said: "Household spending appears to have grown at a somewhat faster pace than projected in August, and the housing market has been more resilient than expected. By contrast, investment intentions have continued to soften and the commercial property market has been subdued."
These changes come after last week official figures showed the economy grew steadily by 0.5% in the three months after the vote to leave the European Union. In August the Bank predicted growth of just 0.1% in the third quarter of 2016.
Inflation set to rise
The Bank also forecast inflation will rise sharply "largely as a result of the depreciation of sterling since" the Brexit vote. It now predicts consumer price inflation will rise from its current level of 1% to around 2.75% in 2018, the highest forecast for inflation the Bank has ever made. It forecasts inflation will gradually fall back over 2019 to reach 2.2% in three years' time.
Carney warned that these rises in inflation will hit high street food clothing prices. He said: "Modest supply growth ultimately means lower real income growth."
The sliding pound will push inflation as high as 4% next year, the think tank the National Institute of Economic and Social Research (NIESR) said earlier this week.
Sterling has fallen by some 15% since the UK's vote to leave the European Union in June.
Brexit High Court ruling
Carney said the High Court ruling on Thursday morning (3 November) which said that Parliament must vote on whether the UK can start the process of leaving the EU is yet another example of the uncertainty that will characterise Brexit. He said: "The negotiations haven't even begun. There will be volatility as those negotiations proceed. I see it as one of the example of that uncertainty."
Earlier this week Carney said he will step down in June 2019, after coming under pressure to resign from Leave campaigners who accused him of talking down the economy after the Brexit vote. It means he will serve one year more than the five he had committed to, but will still be two short of the usual eight years governors serve.
He was asked at a press conference whether anything would persuade him to stay beyond 2019. But Carney replied: "I think we have all had enough of that saga, so let's not reopen it."
© Copyright IBTimes 2023. All rights reserved.