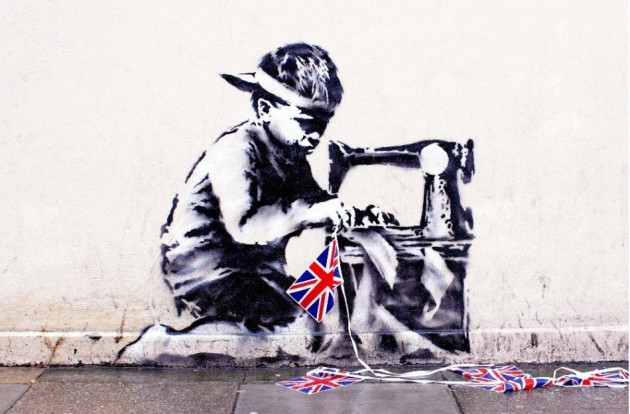 A Banksy artwork that was taken from a London street has been withdrawn from sale in Miami, where it was due to be auctioned.
The Banksy mural, depicting a boy hunched over a sewing machine making Union Jack bunting, disappeared from Wood Green earlier this month.
A new mural has now appeared on the street wall where the image was removed.
The removed mural, Slave Labour, appeared on the wall in Wood Green, north London, last May, shortly before the celebrations to mark the Queen's Diamond Jubilee.
Fine Art Auctions Miami (FAAM) has confirmed that the Banksy mural had been withdrawn from sale, although no reason was given for its withdrawal.
"Although there are no legal issues whatsoever regarding the sale of lots six and seven by Banksy, FAAM convinced its consignors to withdraw these lots from the auction and take back the power of authority of these works," said an auction spokesman.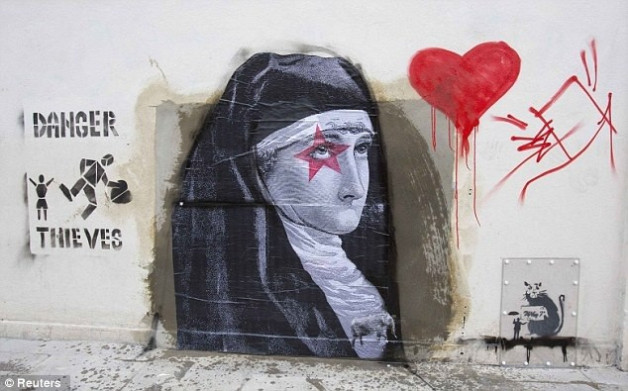 Haringey Council Leader Claire Kober said it was "a true credit to the community" that their campaigning seemed to have "helped to stop the sale of this artwork from going ahead".
"We will continue to explore all options to bring back Banksy to the community where it belongs," she said.
It appeared that a starting bid of £262,450 ($400,000) had been lodged before the auction of the artwork was halted. Fine Art Auctions (FAA) featured the art work on the front page of their website ahead of their Modern, Contemporary and Street Art sale. They expect Slave Labour to fetch between £328,063 and £459,288.
The new mural that appeared on the north London wall depicts a woman in a nun's habit, but it is not known if it is by Banksy.
Councillor Alan Strickland said: "This piece shouldn't be sold as it is a piece of art for our community."
However, the withdrawal of the Banksy from the auction doesn't mean that it will be returned to Haringey, but the council will continue its campaign to bring the artwork back.
"We are a determined bunch," said Strickland. "Residents were really proud to have a Banksy."
Banksy's images - including those of a flower-throwing rioter and kissing policemen - are famous the world over.
Relatively little is known about the enigmatic artist, who goes to great lengths to keep his identity a secret and has never spoken publicly.
There have been a handful of interviews with Banksy and his website contains a few questions and answers, but the Bristol-born artist prefers to remain anonymous.
In 2011, Banksy's documentary Exit Through The Gift Shop was nominated for an Oscar but the artist failed to attend, having had his request to turn up wearing a disguise refused.
Banksy has a net worth of £13 million, with celebrity buyers including pop star Christina Aguilera, who bought a Banksy for £25,000.