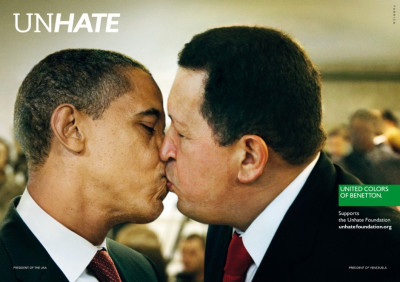 U.S. President Barack Obama locks lips with China's Hu Jintao and Israeli Prime Minister Binyamin Netanyahu plants a smacker on Palestinian President Mahmoud Abbas. Welcome to the first major Benetton advertising campaign in more than a decade
The Italian fashion label, which 25 years ago rode its controversial "United Colors of Benetton" ad campaign to global fame, strikes back with a provocative set of pictures unrolled in key points of Rome, Milan and Tel Aviv as part of the new 'Unhate' campaign.
Apart from the Pope and Obama, the campaigns features French President Nicholas Sarkozy embracing German Chancellor Angela Merkel, Israeli Prime Minister Binyamin Netanyahu kissing Palestinian President Mahmoud Abbas and Supreme leader of North KoreaKim Jong-II kissing with Lee Myung-bak, South Korean President.
Vatican To Sue Benetton Over Pope-Imam Kissing Ad Picture
"It means not hating," Alessandro Benetton, deputy chairman of Benetton Group SpA and son of the founder of the family-controlled company, told the Wall Street Journal. "In a moment of darkness, with the financial crisis, what's going on in North African countries, in Athens, this is an attitude we can all embrace that can have positive energy."
As the Wall Street Journal points out, the "Unhate" campaign is the cornerstone of a plan to relaunch Benetton's brand, product and retail network.
In the 1980s, world-renowned photographer Olivero Toscani created for Benetton the first of his multiracial campaigns with the "United Colors of Benetton" slogan. Later on, the Italian brand moved into controversial topics such as AIDS, Gulf War casualties and so on, always with the aid of Toscani.