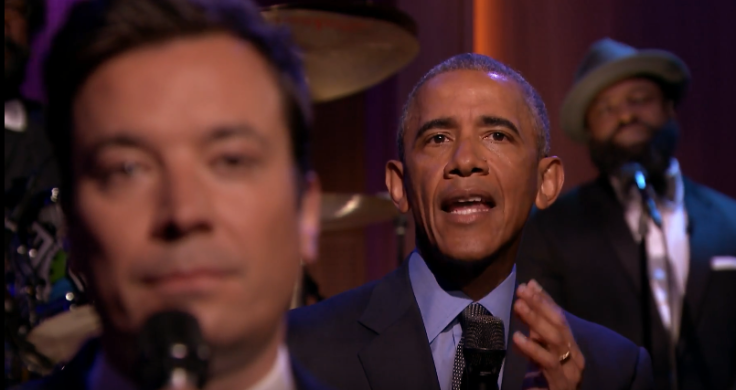 Many in America may not consider Barack Obama to be their best president ever but there is no denying that he is by far the coolest. In the 9th June episode of The Tonight Show starring Jimmy Falon, the POTUS joined in a special segment called "Slow Jam The News".
With help from Falon and the show's house band The Roots, Obama started off by talking about his government's various accomplishments during his eight-year tenure in the White House. He mentioned the employment rate and the economy of the country. Each piece of news was followed up by comments from the talk show host and the band's Tariq.
"He's created lots of jobs for you and me, and he's got one more left for Hillary," Tariq sang, in reference to Obama's official endorsement of the presidential candidate.
The president continued to talk about the US's steps in climate control, health care and the legalisation of same-sex marriages. "In short: Climate change is real, health care is affordable and love is love," he said.
"When the Republicans gave him lemons, he made so much lemonade, Beyonce started calling him 'Barackey with the good hair'," Falon added, trying to hold a serious look through the performance.
When the subject of Obama standing for a third term came up, he quickly responded: "There will be no third term. I can't stay forever. Besides, Daddy's got a Hawaiian vacation booked in about 223 days but who's counting!
"Now, I know some of the presidential candidates have been critical of my foreign policy. I don't want to name any names," he continued, only to be interrupted by Tariq who mentioned Donald Trump.
Obama then went on to challenge those who criticised his administration's Iran nuclear deal, rekindled diplomatic ties with Cuba and the Trans-Pacific Partnership trade deal.
"Now wait a minute Prez Dispenser," Fallon chimed in. "Are you saying you are down with TPP?"
"Yeah, you know me," Obama replied to a round of applause from the audience.
When the subject was brought back to Trump, there were some pretty good jibes to go around. "Orange is NOT the New Black," Obama said is his new favourite show, in reference to the media coverage of the presidential campaign.
The segment ended with Tariq singing: "Once you go Bar-ack you can never go back" before Obama did a double mic-drop.
Watch the complete video below: