US President Barack Obama has officially marked the start of the American holiday season by lighting up the national Christmas tree in front of the White House.
Obama was joined by first lady Michelle, daughters Sasha and Malia and mother-in-law Marian Robinson for the 91<sup>st annual tree-lighting ceremony and counted down from five instead of the usual 10 as Washington DC's cold weather gripped the crowd of thousands who turned out for the event.
"It's a little wet out there, so we shouldn't start at 10," the president joked.
After the first family flipped the switch to turn on the Christmas tree lights, singing legend Aretha Franklin took to the stage to belt out a soulful version of the Christmas carol Joy to the World.
The event was hosted by actress Jane Lynch and included performances by Cuban jazz trumpeter Arturo Sandoval and Mariah Carey, as well as a reading of 'Twas the Night Before Christmas by Michelle Obama.
The president also paid tribute to former South African leader Nelson Mandela, who died on Thursday at the age of 95.
"This year we give a special measure of gratitude for Nelson Mandela, a man who championed generosity of spirit," Obama said.
"In his life, he blessed us with tremendous grace and unbelievable courage and we are all privileged to live in a world touched by his goodness."
The current national Christmas tree is a 28-foot Colorado blue spruce from Virginia.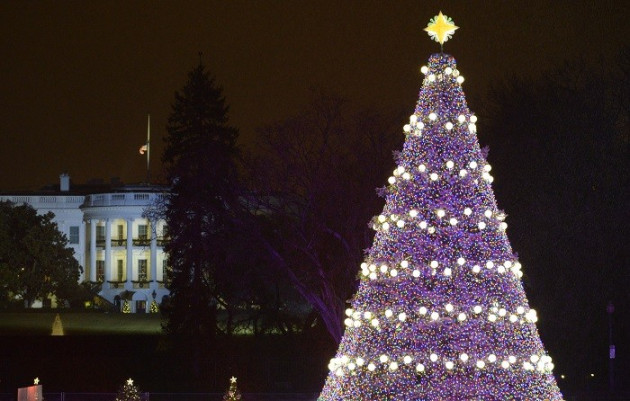 Watch highlights of this year's ceremony on YouTube, below: