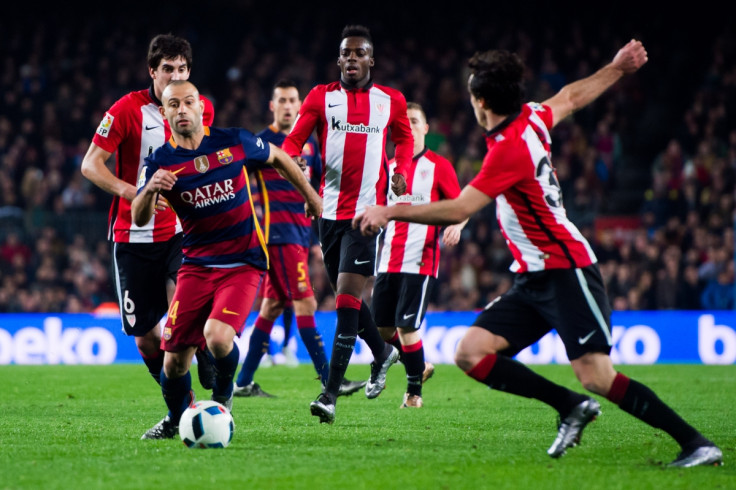 Barcelona star Javier Mascherano has said it is "impossible to enjoy" playing for the Catalan outfit, such as the day-to-day demands at the club. The versatile midfielder also admitted he expects to return to Argentina over the coming seasons as he misses his home country.
The 31-year-old has become a key figure for Barcelona since arriving from Liverpool in the summer of 2010. He has helped them to three La Liga titles, two Copa del Reys and two Champions League crowns, excelling in the heart of defence despite originally joining as a holding midfielder.
The Argentine international says that playing alongside the likes of Lionel Messi, Andres Iniesta, Neymar, Luis Suarez and Sergio Busquets give him "unique moments", but he doesn't have time to enjoy it because of the high demands at the club.
"Belonging to a team like this, with such unique players, gives meaning to our profession," Mascherano said to Libero. "Barcelona have changed my views on how I see football. We live in such an intense way, every three days, that it is impossible to enjoy. You don't have the time. You're always focused on the next challenge and don't have time to relax."
"But there are obviously unique moments that you can't experience in other clubs. Playing alongside Iniesta, Leo, Neymar, Luis, Busquets... The risks they take with the ball. They are different. It is something commendable."
The Barcelona star suggests that at 31-years-old, his return to Argentina is forthcoming. He left his childhood side River Plater more than a decade ago to move to Corinthians, before making the switch to Europe to play for West Ham.
" I think I will return to live in Argentina. I left a long time ago and every day I feel more the need to live in my own country because I miss it. But I don't know when that moment will arrive."
More about Barcelona