The curtain comes down on the 2014-15 season tomorrow in Berlín, on the most fascinating night in European football. Barcelona clash with Juventus and, like ying and yang, the two sides represent opposing footballing styles. All-powerful attack against fierce defence, jogo bonito against Italian pragmatism.
'Los culés' come into the last match of the season with stunning statistics and an attacking trio capable of destroying the most reliable defence in the world. They are favourites, but nobody wants to mess with the Old Lady, who are merciless when it comes to protecting their own goal.
The club run by Josep María Bartomeu are favourites but they must be careful, according to Andoni Goikoetxea, a legendary Barça player who played 60 minutes in the Wembley final against Sampdoria in 1992, the club's first triumph in the biggest competition in Europe. Speaking to IBTimes UK, "Goiko" does not want to compare both finals as "football has changed a lot.
"After two decades, I am starting to miss some details but I recall that we had to deal with loads of pressure at Wembley. Barcelona had played two finals before 1992, and both of them ended unsuccessfully. We needed a Champions League, the most significant trophy, the one which separates big clubs from the best ones.
"I remember that our hotel was far from central London to avoid putting more pressure on the players, and even today I must admit that the wait until the final began was way too long. After two decades, I see things with more perspective and I can appreciate what we did. It was impressive, the scenario –the old Wembley, a great amount of supporters, everything."

'Xavi is one of the five best players in the last decade, he has been absolutely influential in Guardiola's Barcelona or in Del Bosque's Spain. Their styles can not be understood without him.'
Xavi's former coach tells us the secrets behind his greatness. Read the article here (pic: Getty)
But Goikoetxea believes next Saturday's final has nothing to do with that.
"Barcelona must know that being favourites can be counter-productive" says the Navarrese. "We are in sublime form, I must confess that I have played with some of the best attacking players in the world – Hristo Stoichkov, Michael Laudrup and Romario, but I have never seen anything like today's Barça attacking trio. You can't stop Neymar, Luis Suárez or Messi.
"And I want to talk specifically about Messi because he is not only the best forward in the world, he is the best player in football's history. I have seen Diego Maradona playing and he was an out-of-this-world player, but nothing compares to Messi, as he is able to make it every week, game in, game out. His vision, his attacking conductor skills, are impressive."
Goikoetxea goes further. "I think that Messi can continue playing professional football at the age of 40, because he has everything a player needs to be the best. It is not just dribbling, speed or goals. It is his intelligence, he is so smart on the pitch, he knows how to generate spaces when he suffers one-to-one marking. Time will not make that disappear."
In the 1994 USA World Cup, Goikoetxea was one of the big names. He scored an astonishing goal in a draw with Germany, he made superb crosses and he was chosen among the best players in the tournament. However, the story ended sadly, as Italy knocked out Spain in controversial circumstances, with Tassotti elbowing the current Barcelona manager Luis Enrique.
Enrique was a star player, and he is now providing a highly astute coach as well. Goikoetxea says: "I have always seen Luis Enrique as a potential manager, he had something special, the winning character that makes a difference.
"It is obvious that he has some of the best players in Europe, but at the same time, it is fair to remark that his side are capable of many football styles, a great variety of tactics and adaptation to different scenarios. Alongside physical condition and set pieces, Barcelona are making the most of their versatility and Luis Enrique is one of the main reasons for this success."
Gaizka Mendieta, a legend of Barcelona, Valencia and Lazio among others, subscribes to Goiko's view. He explains football better than anyone and that is why Sky Sports hired him.
"Barcelona are favourites, I see no problem to admit that, look at the last few months" says Mendieta. "But always, starting from one premise. Juventus have the right tools to clash with Barcelona - it is not only the defence, they have attacking resources to win the match. However, if Barcelona manage to repel Carlos Tévez or Álvaro Morata, they have half of the job done, whereas Juve need to do more than block Neymar, Suárez and Messi to lift the trophy".
'Mendi' praises Luis Enrique, saying: "Barcelona are very unpredictable, you can see how he [the coach] has managed to create different styles in one season. Tactically, they have a big variety of styles. They are one of the best sides when it comes to set pieces, no matter whether we talk about defence or atttack.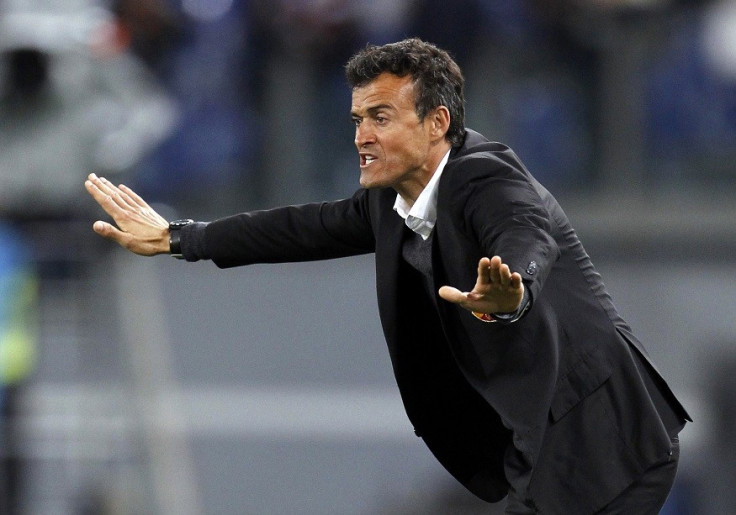 "The physical condition is very obvious, they end the season very fresh. But I want to underline the constant adaptation. Barcelona played in a certain way during the first months of La Liga, without Luis Suárez. Then, they adapted their style when the Uruguayan returned. There was a Barcelona before the Anoeta defeat (1-0 against Moyes's Real Sociedad) and a Barcelona after that game.
"If you remember, Messi was benched in San Sebastián. There was some controversy, after that game, there were indoor meetings and Luis Enrique showed great skills as a group manager. Because he changed his mind, his ideas, he gave Messi an even more important role and the result is very obvious.
"Believe me, it is not easy to change your methodology in the middle of a season but Luis Enrique showed responsiveness, attitude, and he has been able to make the most of a brilliant squad.
"You can appreciate this in the goal as well, both Claudio Bravo and Marc Andre Ter Stegen coexist without trouble, both of them performing very well and showing great skills with their feet. This is vital because it puts teams down when they try to put pressure on the defenders in order to recover possession".
Mendieta explains it better than anyone. Ter Stegen will play on Saturday after very good performances in Europe, but Claudio Bravo has been outstanding during the whole season. He even broke Pedro Mari Artola's long standing record of 560 minutes without conceding – a feat he achieved way back in the 77-78 season.
IBTimes UK contacted Artola to analyse Luis Enrique's side. He told us that, with goalkeepers, "I always say that the important thing is that they save goals. Their skills with their feet come after that. Both Bravo and Stegen save loads of goals, their rivalry has improved them as players, and Barcelona have taken advantage of the situation from August to June. Both show insatisfaction, they want to play every competition, they are natural born competitors and Barcelona have enjoyed their skills".
However, Artola is keen to point out that Juventus have "one of the five best keepers in the last two decades. Gianluigi Buffon. It is maybe one of the last times we watch him at such an important game. He is 37, and it is remarkable how he has kept up the standards after so many years."
Oier Fano Dadebat is a Spanish journalist who divides his time between San Sebastian and London. You can find out more about him on Twitter @oierfano.