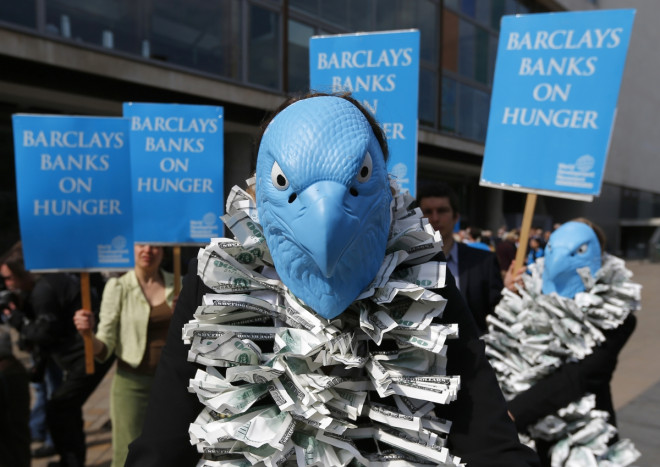 Barclays' financial director has revealed that bankers received 20% less in pay and bonuses in the first quarter of this year, which "may or may not have prompted some people to move on."
Barclays' finance director Tushar Morzaria said on a conference call that banker compensation was down 20% from a year ago and that investment banking weakness would continue into the second quarter.
"The weakness that we saw in the first quarter continued into April. It's very difficult to call a full quarter on just one month's set of results," said Morzaria.
However, Morzaria added that while compensation had slumped, the bank still has a "strong bench of people."
Barclays' pre-tax profit at the investment bank sank 49% to £668m (€813m, $1.1bn) in the first three months of the year. It blames difficult trading conditions and cuts to the business.
"We continue to be cautious about the trading environment in which we operate and as a consequence we remain focused on structurally reducing the cost base in order to improve returns," said the group in a statement.
High Profile Departures
On 29 April, Barclays confirmed that the head of Barclays Americas, Skip McGee, will be leaving the lender immediately, amid the bank merging its US business units.
Barclays said in a lengthy statement that as a result of new US regulations, it has made a number of changes to its North American business units, which means it has to establish an Intermediate Holding Company in the US, incorporating all of its subsidiaries in the region by 1 July 2016.
On 2 May, Barclays Asia-Pacific chairman and chief executive Robert Morrice announced his retirement from the role after working for the bank for 17 years.
Morrice, who is only 51, helped Barclays' Asia-Pacific business through the through the global economic crisis and has overseen business in the region for the past 12 years.
Meanwhile, media reports say that Barclays' head of mergers and acquisitions, Paul Parker, is expected to quit.
Parker, who was the M&A head at Lehman Brothers before its US division was acquired by Barclays in 2008, has been eased out as part of management changes to be announced next week, the newspaper reported.
Earlier this year, Barclays' chief executive Antony Jenkins said he felt "forced" to bump up staff bonuses in 2013 because the number of senior bankers that resigned from Barclays doubled last year, after the bank cut pay extra rewards the previous year.
Antony Jenkins said he was under pressure to increase staff bonuses and incentive rewards to £2.38bn in 2013, from £2.17bn in 2012, after 10% of its senior director workforce jumped ship.
"We were faced with a very difficult decision for me personally as chief executive and for the board because we are absolutely committed to driving the level of compensation down in the investment bank," said Jenkins.
"People are less attracted to come to you, both clients and employees," he added, in the event of a flight of top talent."