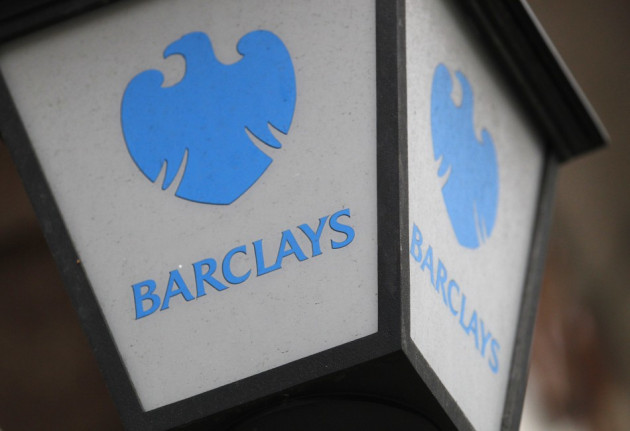 Barclays Plc posted first half profits that were stronger than anticipated Friday as the bank again apologized to its shareholders for its part in the libor rate-rigging scandal that has claimed its former CEO Bob Diamond.
Adjusted first-half profits rose to £4.2bn in the first six months of this year, the bank said in a statement, well ahead of the £3.8bn expected from industry analysts. Reported profits, however, will show a 71 percent decline from the same period last year owing to a £2.945bn charge Barclays was forced to book against the rising value of its own debt in the capital markets and the record £290m fine to authorities in the UK and the United States for its admitted role in the libor-rigging investigation.
"We are sorry for the issues that have emerged over recent week and recognise that we have disappointed our customers and shareholders," said outgoing Chairman Marcus Agius in the earnings statement. "However, our leadership continues to focus on the delivery of our financial performance targets."
Shares in the group rose more than 7 percent by mid-day London trading to 164.8 pence. The shares are down around 6 percent so far this year.
Barclays said it had set aside a further £300m to compensate customers who may have been mis-sold insurance protection plans. A further £450m was charged to cover claims from small and medium-sized businesses who may have been mis-sold interest rate hedging products.
The bank, however, could not estimate the potential penalties it may face as a defendant in a number of class action lawsuits filed in the United States associated with libor manipulation.
"It is not practicable to provide an estimate of the financial impact of the potential exposure of any of the actions described or what effect, if any, that they might have upon operating results, cash flows or Barclays financial position in any particular period."
Friday's statement detailed a series of US-based lawsuits filed in relation to alleged manipulation in libor markets denominated in Japanese Yen, US dollars and Euros. Barclays says the complaints in each are "substantially similar" and allege violations of US state law and various commercial and Acts covering a period between 2005 until 2012.
Interestingly, Barclays said a broader class action suit related to its filings of annual results had also been recently launched: "The complaint alleges that Barclays Annual Reports for the years 2006-2011 contained misstatements and omissions concerning (amongst other things) Barclays compliance with its operational risk management processes and certain laws and regulations. The complaint is brought on behalf of a proposed class consisting of all persons or entities (other than the defendants) that purchased Barclays sponsored American Depositary Receipts on an American securities exchange between 10 July 2007 and 27 June 2012."
The bank also revealed that the UK's Financial Services Authority had launched an investigation into the activities of four current and former Barclays executives, including Finance Director Chris Lucas.
"The FSA is investigating the sufficiency of disclosure in relation to fees payable under certain commercial agreements and whether these may have related to Barclays capital raisings in June and November 2008. Barclays considers that it satisfied its disclosure obligations and confirms that it will cooperate fully with the FSA"s investigation."
Investment banking income in the three months ending in June rose 5 percent from last year to £3.03bn, but fell a steep 12 percent from the first quarter as the European sovereign debt crisis hit sentiment and volumes across the bank's customer base.
The group said sovereign debt exposure to Spain, Italy, Portugal, Ireland Greece and Cyrpus was reduced by 22 percent from last year to £5.6bn.