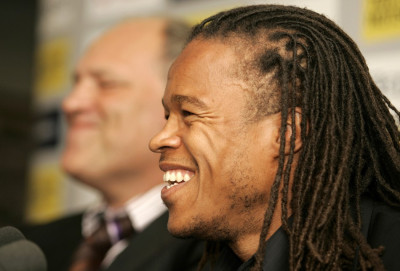 Footballers often get a lot bad press from the media, the fans and especially from people who view them as nothing more than over-paid louts who can do nothing more than kick a ball.
While there have been a few high-profile examples of players bringing the game, and themselves, into disrepute, it is easy to forget there are thousands of others who strive to use their fame and wealth for others.
The most recent example of generosity and loyalty arrived from one of the game's most respected players, Barnet's current player-manager Edgar Davis.
Following his team's 3-2 defeat to Accrington Stanley - in which Davids got sent off for getting two yellow cards - the beleaguered Barnet began their 215-mile journey back home.
To make matters worse for the 36 traveling Barnet fans, their coach broke down on a stretch of the M6, delaying their journey home even further.
However, once Davids saw the stranded fans as the Barnet team coach drove by, he urged the driver to drop off his players at the nearest service station and go back to collect the fans.
Once the fans were picked up, the former Champions League winner then proceeded to bring the shivering Barnet fans coffee while they waited for their replacement bus to arrive.
Davids told The Telegraph: "I saw the coach on the side of the highway with some of the supporters standing outside in the cold.
"It was the least I could do for my team, to send the coach back to pick them up so they don't stand in the cold.
"Shortly after the coach had arrived it started to rain, I was glad I did it. No man left behind!"
The gesture was certainly appreciated by the fans, with one writing on a fan's forum: "You can follow the plastic Premiership as much as you like - but a day like that only happens at Barnet."
While Barnet fans had their own unlikely hero that day, IBTimes UK has collected some other examples of footballers who deserve credit for going the extra mile to help others.