Gareth Barry has revealed he came close to signing for Liverpool but was ultimately dissuaded after hearing abusive chants from the Anfield crowd.
The Manchester City midfielder was identified by former Liverpool manager Rafael Benitez as a key summer target in 2008, after the player expressed his desire to leave Aston Villa.
However, Barry's transfer from Villa fell through after it became apparent that Benitez saw the midfielder as a replacement for fan-favourite Xabi Alonso, leading to widespread condemnation from Anfield regulars.
Liverpool's failure to sell the Spaniard led to the collapse of the Barry deal and, having joined City 12 months later, the 30-year-old has expressed his relief at choosing the Etihad instead of Anfield.
"I remember when the transfer saga was going on, I was watching a Liverpool friendly [against Lazio at Anfield] and the home fans were singing, 'You can stick your Gareth Barry up your ----'. I was at home, but I could just hear it vaguely. That might have got into my head a little bit," Barry told The Sun.
"Liverpool were still interested when I decided to join City [in 2009]. I thought about it really hard, but the things the club were talking about, I felt City were on the up, whereas Liverpool were maybe finding it a bit tougher than City."
"It wasn't an easy decision," Barry said. "I was signing [for City] on promises being made really and, in football, promises get made all the time. They can backfire and people can end up saying they made the wrong decision. But sitting here now, I think it has been a very good decision.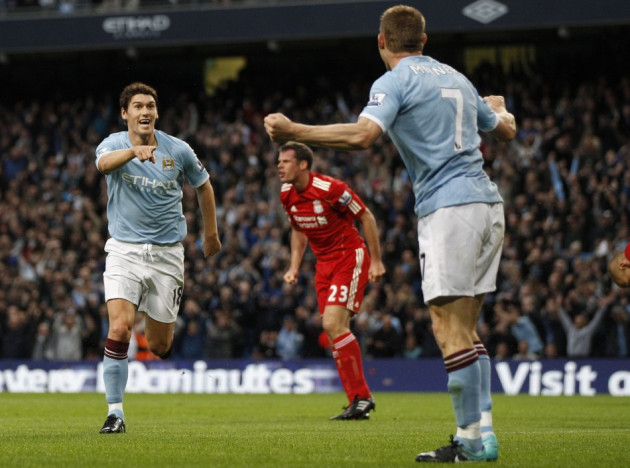 Two-and-a-half years later, Barry has helped City end their 35-year wait for a trophy [last season's FA Cup] and appeared on Europe's biggest stage, while Liverpool have regressed, finishing outside the top four and failing to reach the Champions League in the past two seasons.
Kenny Dalglish's side are slight favourites in Wednesday's Carling Cup semi-final second leg but they trail City by 19 points in the league and Barry is under no illusions as to the decision he made in spurning Liverpool.
"Four years on, people say to me that I've made the right decision joining City," he added. "Obviously Liverpool is a fantastic club with a great following but I won the FA Cup last year and I've played in the Champions League this season."
"We were very disappointed with our performance at home but we're good enough to go to Anfield and turn it round.
"With us being a goal behind and playing away from home, we can go there and play good football and maybe the pressure will be on them a little bit more.
"It will definitely help the confidence inside the club if we win a cup midway through the season. We're desperate to win the League Cup."