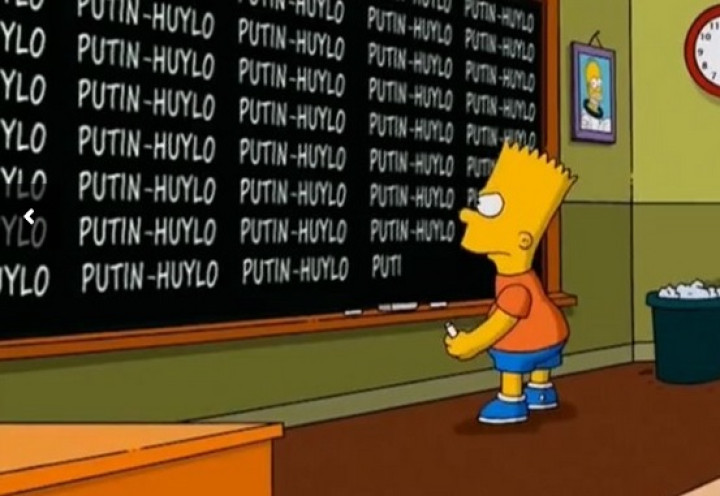 Bart Simpson has somehow been dragged into the war of words between Russia and the US after a video showing the cartoon character calling Vladimir Putin a d***head went viral.
A 30-second video of The Simpson's famous opening sequence has been widely circulated online in both Russia and Ukraine.
The footage is instantly recognisable to fans of the classic US show, except for two notable differences.
The first shows a billboard in Springfield showing what is believed to be a naked Putin riding a horse in Crimea.
As the shot swoops through to inside Springfield Elementary –as it has done for more than 500 episodes – we see Bart writing lines on a chalkboard in what has been an ongoing gag for the past 25 years.
In this occasion Bart can be seen writing the words "Putin Huylo", which, as reported by the Washington Post, can be roughly translated to "Putin is a d***head".
The phrase has been something of a rallying call for protesters in Ukraine following the crisis between the two countries which began earlier this year.
Ukraine's acting Foreign Minister Andriy Deshchytsia famously uttered the words "Yes, Putin is a d***head" to protesters outside the Russian embassy in Kiev in June, resulting in the crowd chanting the phrase back to him.
Russia is understandably unhappy about the phrase, and Ukraine media speculated whether this was a genuine opening to a recent episode of The Simpsons.
However, after the Post reached Fox Television for a comment, the network confirmed it was a doctored video and is not, nor ever will be, used in the programme.
This is not the first time The Simpsons has been accused of attempting to worsen political tensions.
In May, an Egyptian TV station alleged the show had predicted the Syrian civil war in an episode broadcast in 2001.