Firefighters are entering their second week of battling a massive wildfire in southern California, but the fire is still growing. Authorities said the wind-whipped Thomas Fire exploded on Sunday (10 December), growing by 56,000 acres in one day and making a run of seven miles. The fire is now just 10 percent contained – down from 15 percent the day before.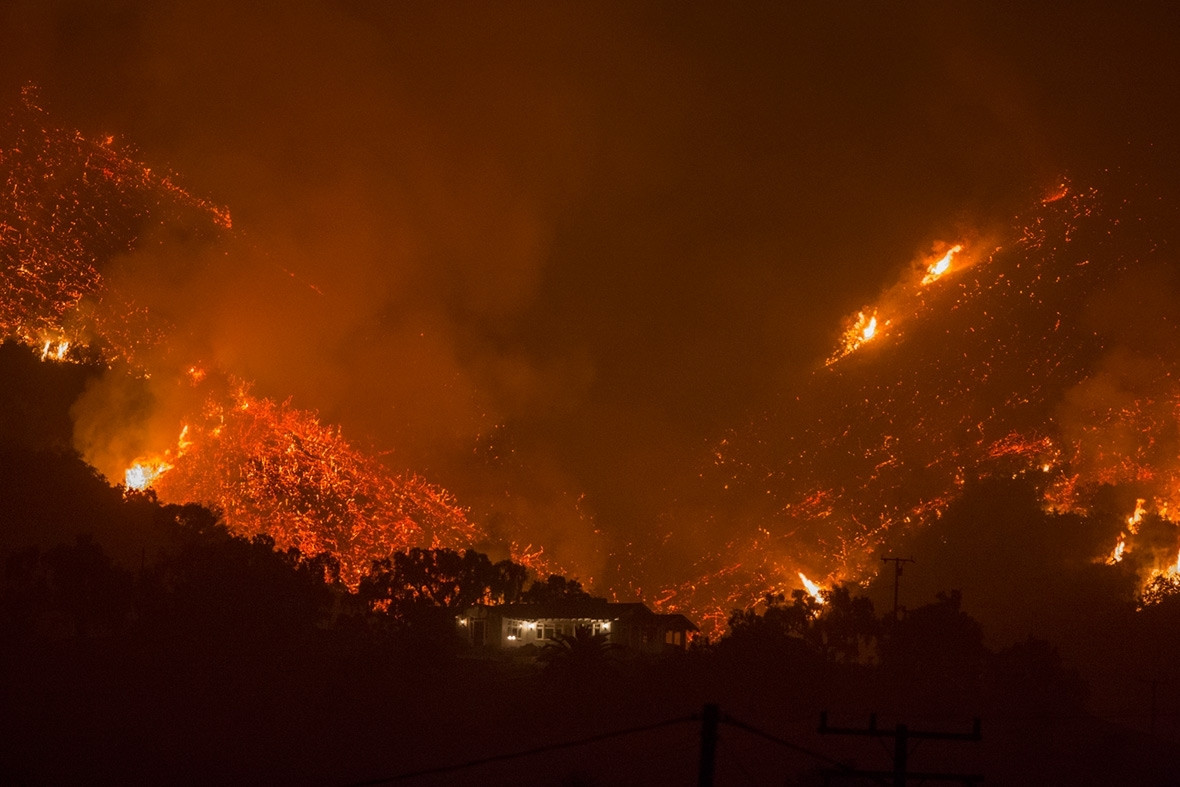 Since it started a week ago, the Thomas Fire has scorched an area of 230,000 acres, making it the fifth largest wildfire in modern California history. As of late Sunday, it had destroyed 790 structures and damaged 191.
Sunday's powerful flare-up on the western edge of the wildfire sent residents fleeing, as wind-fanned flames ripped down hillsides toward coastal towns northwest of Los Angeles. New evacuations were ordered as the fire threatened Montecito and Carpinteria, seaside communities in Santa Barbara County.
"The winds are kind of squirrelly right now," said county fire spokesman Mike Eliason. "Some places the smoke is going straight up in the air, and others it's blowing sideways. Depends on what canyon we're in."
"Fire will continue to threaten the communities of Carpenteria, Summerland, Montecito and surrounding areas," the California Department of Forestry and Fire Protection (Cal Fire) said on Sunday night.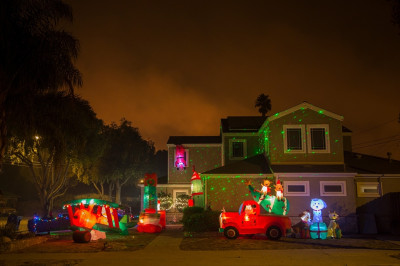 Nearly 5,800 firefighting personnel are working on the blaze, a Cal Fire spokesperson said. The winds and the rugged mountainous terrain have hindered firefighters as they battle the blaze. "A lot of these guys have fought a lot of fires in the past few months and are fatigued," said Fire Captain Steve Concialdi, spokesman for the battle to contain the Thomas Fire.
Fire officials are bracing themselves for further growth and danger this week due to continuing strong winds, no rain and decades-old dry vegetation.
Southern California's Santa Ana winds have long contributed to some of the region's most disastrous wildfires. They blow from the inland toward the Pacific Ocean, speeding up as they squeeze through mountain passes and canyons. Gusts of up to 40mph (64kph) are expected on Monday, according to the US National Weather Service.
Fires are not typical in southern California in December, but as California Governor Jerry Brown said, deadly and destructive wildfires in winter are "the new normal". He warned that drought and climate change mean California faces a "new reality" where lives and property are continually threatened by fire, at a cost of billions of dollars. He added that gusty winds and low humidity are set to continue and warned that there's a good chance of seeing "firefighting at Christmas".
Though the state emerged this spring from a five-year drought, hardly any measurable rain has fallen in the region over the past six months.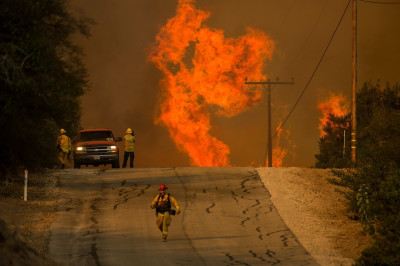 Some of the other fires that broke out in San Diego and Los Angeles counties have been largely brought under control by thousands of firefighters. Both the Creek and Rye fires in Los Angeles County were 90 percent contained by Sunday morning, officials said, while the Skirball Fire in the upmarket Bel Air neighbourhood of Los Angeles was 75 percent contained.
North of San Diego, the 4,100-acre (1,660 hectare) Lilac Fire was 75 percent contained by Sunday and most evacuation orders had been lifted. The flames erupted suddenly on Thursday and swept through the San Luis Rey Downs training centre, where it killed more than 40 elite thoroughbred race horses. It also destroyed more than 100 homes — most of them in a retirement community. Three people were burned trying to escape the fire.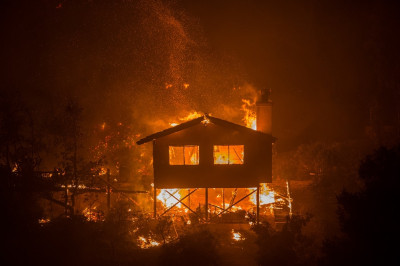 Despite the size and number of wildfires burning in the region, there has only been one confirmed death: A 70-year-old woman, who crashed her car on an evacuation route, is attributed to the fire in Santa Paula, a small city where the Thomas Fire began.