At least 25 race horses have been killed after wildfire tore through stalls at a training facility in San Diego.
Nearly 500 horses were stabled at the San Luis Rey training centre in Bonsall. Staff had planned to transport the thoroughbreds to a facility in Del Mar in the morning and afternoon, but noone anticipated how quickly the blaze would engulf the area.
Trainer Doug O'Neill, told KTLA5 News: "It went from one minute being, 'Yeah, we're going to be OK,' to 'Oh, my God, what are we going to do?'"
Training centre workers risked their lives to free horses from stalls and herded them to safety. After being lead away from the raging fires, vans were brought to the site and the surviving horses were transported to the Del Mar race track.
Horses that were in surrounding pastures remain unaccounted for, the California Horse Racing Board said.
Los Alamitos Race Course cancelled its Friday racing programme in sympathy for the owners, trainers and caretakers of the horses that were killed.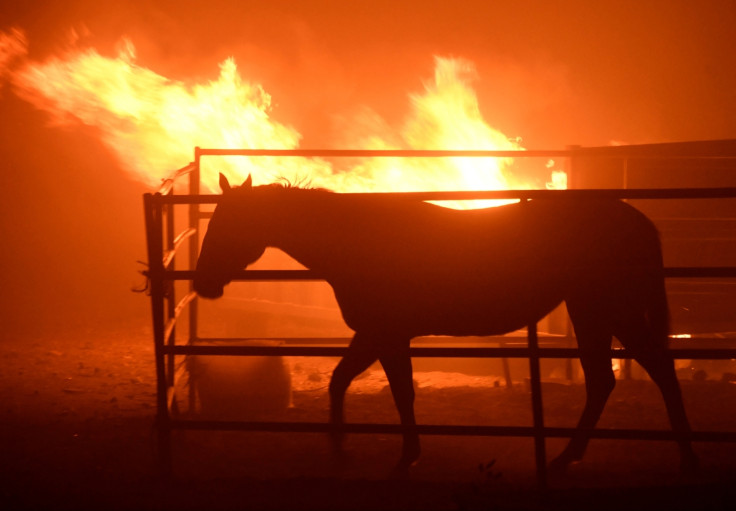 A state of emergency has been declared in California as wildfires continue to burn everything in their path.
Firefighters are battling to contain at least four wildfires marching across southern California, whipped up by fierce Santa Ana winds. The largest and most destructive of the fires is in Ventura County, northwest of Los Angeles. By Tuesday night, the Thomas fire had covered an area of 85 square miles (220 square kilometres) and had reached the Pacific, 30 miles (48 kilometres) away from where it had started a day earlier.
The fire had destroyed at least 150 structures, but incident commander Todd Derum said he suspected "hundreds more" would be lost when flames died down enough to make a thorough assessment.