France and Germany are commemorating the 100th anniversary of the Battle of Verdun, the longest battle of the World War One. Hundreds of thousands of soldiers from both countries died during bloody fighting during the 10-month struggle, which lasted from 21 February until 18 December 1916.
Both the French president François Hollande, and the German chancellor Angela Merkel are in the town in north-eastern France, attending a series of events remembering those who died. The two leaders, key allies in the EU, took the chance to preach about the importance of partnership and reconciliation.
The day started at the German military cemetery at Consenvoye, just north of Verdun, home to the graves of some 11,000 German soldiers. The two leaders jointly laid a wreath in the rain, before moving on to a ceremony at Verdun city hall.
Merkel noted that the friendly reception she had received as a German chancellor in Verdun was "not at all to be taken for granted", and said: "Only those who know the past can draw lessons and build a good future."
Hollande echoed his counterpart's comments, saying: "Verdun is where Europe lost itself, 100 years ago. But it also experienced the best – the town was capable of galvanising itself, coming together for peace and for Franco-German friendship. Long live the spirit of Verdun."
The main ceremony is being held later in the day, at the nearby Douaumont Ossuary. At the ceremony, 4,000 French and German schoolchildren will be giving a performance coordinated by German filmmaker Volker Schloendorff, while church bells ring out.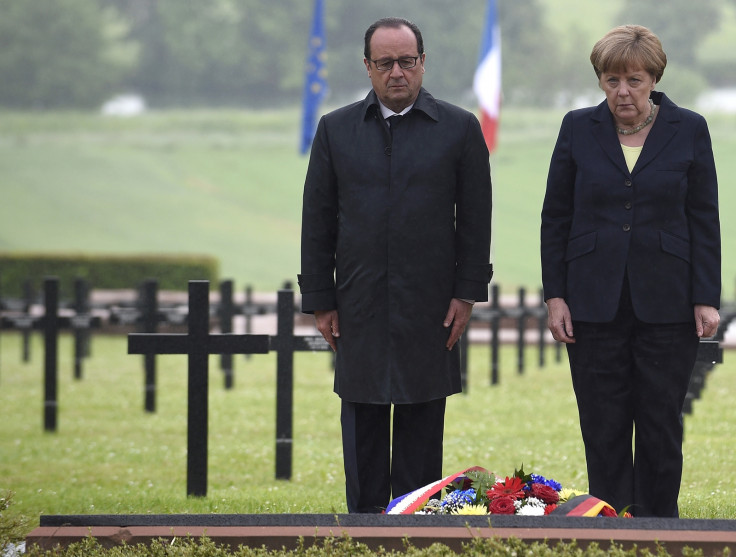 Lasting 303 days, Verdun was one of the most costly battles of the war. Estimates differ on the number of casualties, ranging from 714,000 to around 976,000 between both sides. As many as 60 million shells were fired during the 10 months the battle lasted. About a quarter of the munitions fired did not explode, so living and farming on the battlefield is banned.