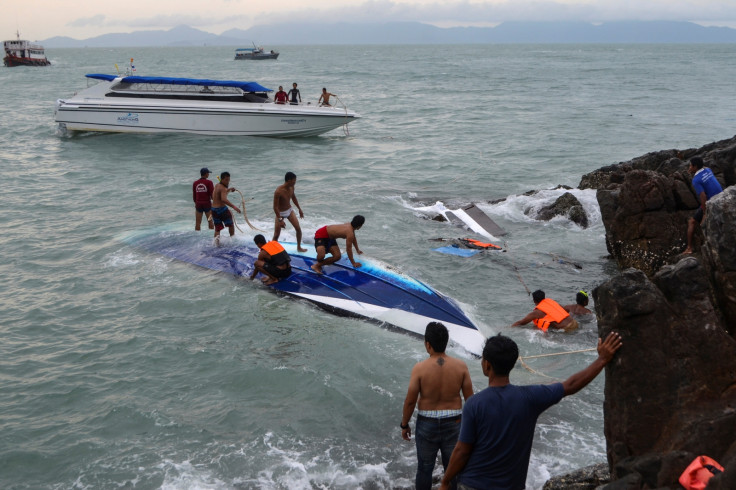 The body of Jason Parnell, the Briton who went missing after a speedboat capsized near Koh Samui in Thailand was found on Sunday, 29 May, the Foreign Office said. His body was trapped in rocks, the BBC reported.
"Rescue workers found his body at 9:25 am near the accident site. They are bringing his body ashore by rubber boat now and we have called off the search operation," Lieutenant General Ukhcarawath Sithanaubol told AFP.
Parnell, 46, was celebrating his first wedding anniversary with his wife Puja who survived.
A British woman, Monica O'Connor, 28, also died in the accident. She was on her honeymoon with her husband who survived.
"We are supporting the family of a British woman who has sadly died following a boat accident near Koh Samui, Thailand. We remain in contact with local authorities in Thailand," the Foreign Office said.
The boat had 32 passengers and four crew members when it capsized after reportedly hitting rough waters on Thursday (26 May). It was on its way back to the island from Mu Ko Ang Thong National Park.
The death toll in the accident is now four. The other two victims were from Germany and Hong Kong. Four others who were injured are believed to be in hospital. One had a broken shoulder while the other had a skull fracture. Two others were believed to have lung infections and suffering from lack of oxygen.
The Thai police told the BBC the winds were strong and the sea was rough when the accident happened just 300 metres off the shore. The police added that the speedboat was not overloaded as it was licensed to carry 45 people.
The police arrested the captain of the boat and charged him with negligence leading to death and injuries which carries a prison sentence of 10 years.