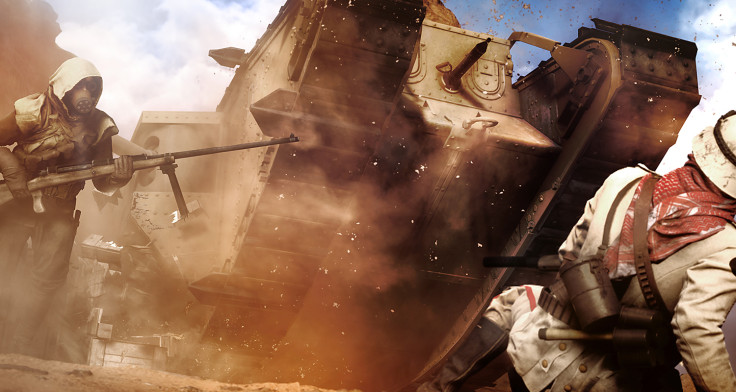 EA's open beta for upcoming World War 1 shooter Battlefield 1 is now live and available for everyone to download on Ps4, Xbox One and PC. Those who signed up to EA's Battlefield Insider programme were able to play the game through early access yesterday (30 August).
The beta download weighs in at 6.1GB on PS4 through the PlayStation Store, 6.16GB on Xbox One through the Xbox Store and 7.10GB on PC through EA Origin. The beta includes two gameplay modes, Conquest and Rush, on the game's Sinai Desert map.
PS4 players will not need a PlayStation Plus subscription to take part in the beta test, but Xbox One users will require an Xbox Live subscription. The beta supports 64 player matches of Conquest and 24 player matches of Rush.
Progress in the beta won't carry over to the full game, but those who reach rank 15 and play on four different days will get an exclusive dog tag reward that will be active when the game launches on 21 October.
The beta's map was revealed in a trailer released shortly before Gamescom in August, the map features horses, tanks, biplanes and an enormous train – one of the game's behemoth vehicles in Conquest mode.
You can read our preview hands on impressions of the map and game generally here.
"Battlefield 1 with 64 players feels like carnage incarnate," we wrote. "That's what I gathered from my first real assault, attacking an objective located in the middle of a small desert village. Machine guns fire from the mountains and anti-tank launchers on bipods pump round after round into the approaching mass of tanks and horses. I'm not bothered. I'm flying overhead, my bomber dropping bombs that dig craters into the earth itself, giving the approaching infantry cover for their approach.
I have no idea what I'm doing and, for the first time since Battlefield 3, I'm having fun.
For all the latest video game news follow us on Twitter @IBTGamesUK