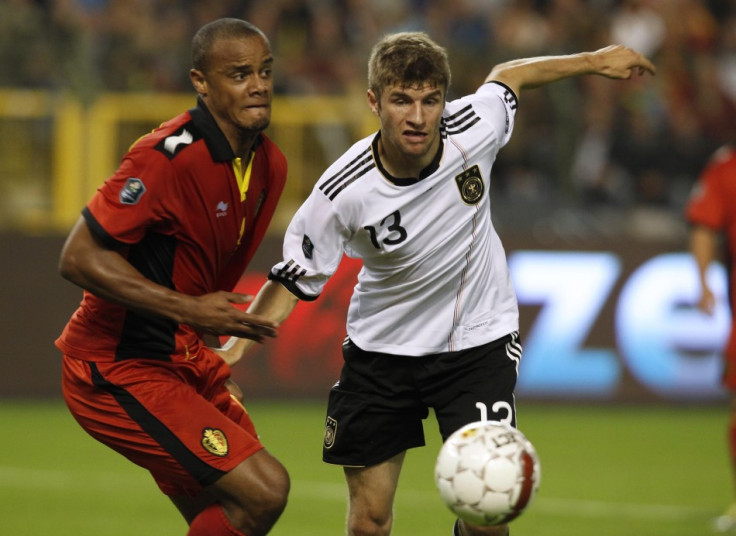 All the latest transfer rumours from Bayern Munich as the club look to fend off interest for Bastian Schweinsteiger and Thomas Muller. The club have continued their war of words with Juventus over the signing of Arturo Vidal and the German Bundesliga side are said to be monitoring Santos' midfielder Lucas.
Bayern Munich manager Jupp Heynckes says that he will not allow Bastian Schweinsteiger to leave the Allianz Arena. Schweinsteiger has been attracting attention from Chelsea, Manchester United and Real Madrid but the Bayern Munich manager says he is part of the clubs future and is not for sale at any price. "A year ago he was playing on the same level as players such as Xavi and Iniesta. He is not for sale,'' he told Sky Sports News.
The row between Bayern Munich and Juventus has continued with Juventus claiming they won the race to sign Arturo Vidal through fair means. Bayern Munich has complained that the Chilean international had agreed to sign for the German side but at the last minute changed his mind to join Juventus. "With reference to Arturo Vidal's signing and to the statements expressed by Karl-Heinz Rummenigge - president of the vigilance committee at Bayern Munich," said Juventus' managing director and sports director general Giuseppe Marotta.
"'In the circumstance concerning Vidal, Juventus operated according to the regular channels of the transfer market, including an agreement both with the club, in this case Bayer Leverkusen, and with the player involved. Apparently, Rummenigge relied on less conventional channels, I'm really sorry for him and Bayern. They missed a good chance, both in the transfer market and in their communication: silence would have been preferable,'' he continued
Reports are continuing to circulate that Manchester City are readying a bid for Thomas Muller. Bayern Munich has said that the German international is not for sale but Roberto Mancini is keen to test the German's resolve. It has been reported in the German press that Mancini is ready to offer Bayern £45m for the forward. Mancini is said to be a huge fan of the forward and is very impressed with Muller's versatility.
Bayern Munich are said to be in a straight fight with Manchester United to sign Santos wonder kid Lucas. "Lucas was approached earlier this year by Manchester United and Bayern Munich," said the player's agent, Walter Ribeiro.
The midfielder who is valued at a staggering £72m is said to want to move to Europe this summer with his preferred location being Munich. ESPN and Sky Sports claim the 18 year old has been tracked by Bayern Munich since his starring role in Brazil's 2-0 win against Scotland back in March. Manchester United are said to be put off by the transfer value but Bayern Munich are willing to push a transfer through as they see the long term benefits of the signing.