A BBC Twitter account which claimed the US President Donald Trump had been shot was hacked, the media outlet said.
BBC Northampton tweeted at 10.52am on Saturday (21 January): "Breaking News: President Trump is injured in arm by gunfire #Inauguration."
The post was immediately removed, but not before those believing the news had retweeted it.
A BBC spokesman confirmed the account had been hacked and said: "We are investigating and taking steps to ensure this does not happen again."
According to the news organisation, a US hacking group OurMine detected "unusual activity" on the Twitter account so decided to "re-hack" it.
A spokesman for the group said: "We didn't hack it at the first time. We saw unusual activity on the account and we re-hacked it to make sure if the account was hacked or not, and unfortunately it was hacked. We just tweeted that someone hacked it.
"We never hack anyone for no reason. We are a security group."
The group has previously hacked the Netflix, Marvel and NFL's twitter accounts to demonstrate their vulnerability.
Last year, both Amir Khan and Jeremy Corbyn's Twitter accounts were hacked, causing much embarrassment to both.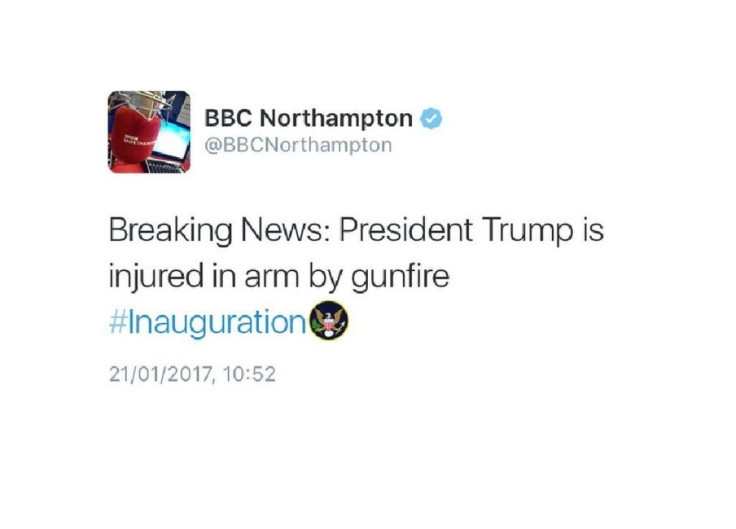 BBC Northampton later tweeted to apologise for its debacle. The tweet said: "Apologies to anyone who saw an unusual tweet from our account this morning. We do appear to have been hacked and we are looking into how."
The BBC's full statement said: "BBC Northampton's Twitter account was hacked this morning.
"The tweet was removed quickly, as soon as we realised the situation.
"We are investigating and taking steps to ensure this does not happen again."