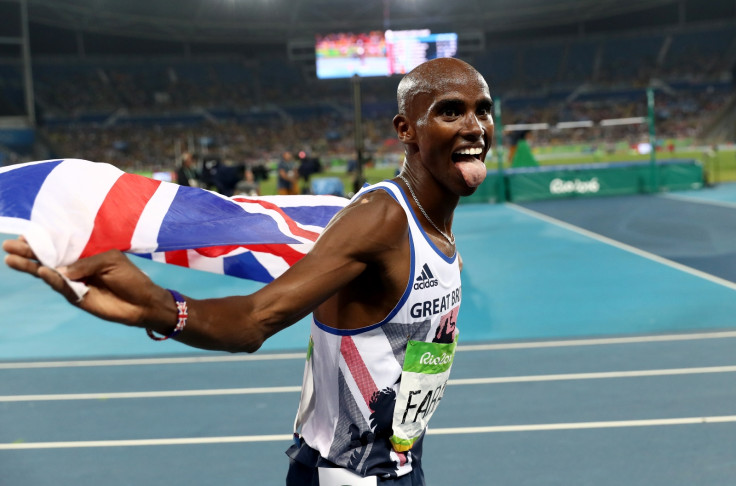 World 10,000m champion Sir Mo Farah was voted BBC Sports Personality of the Year 2017 yesterday (17 December). But some viewers cried foul as Farah was spotted with the award under his seat before the winner was announced. However, there is a logical reason for that..
The 34-year-old, a four-time Olympic champion, could not attend the ceremony held at Liverpool and was presented the award on video link by stepdaughter Rhianna.
Fans were quick to point out that even before the voting was open, the trophy was already with Farah at his home.
A Twitter user said: "Any reason why Mo farah had a trophy next to him before the voting was even open?? #spoty fix."
Another one wrote: "Rigged to f*** this #spoty Mo Farah hasn't attended the ceremony? Yet they've just handed him the trophy? Yet there's another trophy on stage!"
A third tweeted: "How did they have the trophy at Mo Farah's house if the voting opened half an hour ago? #SPOTY2017 fix."
The most plausible explanation for this is that the trophy was on standby, in case Farah was announced the winner after the final votes came in.
According to the Mirror, it is not unusual to have a spare trophy beside nominees who are unable to attend the live event.
Apart from Farah, the other contender who was missing from the ceremony in Liverpool was Formula One driver Lewis Hamilton.
The champion long-distance runner beat 11 other contenders for the award. He has been shortlisted five times before, but this is the first time he has won the coveted trophy.
Farah expressed genuine shock when former Liverpool manager Kenny Dalglish announced his name as the winner after a public vote.
He later said in an interview: "It is pretty amazing and hard to think about. I didn't imagine I was ever going to win this but anything can happen. If you work hard you can achieve your dreams.
"I am sorry I could not be there. My kid has been not well. I just cannot believe I have won."
But some fans were still sceptic as one wrote: "Why does Mo Farah look so shocked considering the trophy is on his daughters lap??"
While another Tweeted: "Mo Farah's daughter so surprised he won yet she's sat there with the trophy on her lap."
Farah was a surprise winner at this year's BBC SPOTY. Boxer Anthony Joshua was the frontrunner, but he failed to even make it to the top three, with World Superbike champion Jonathan Rea coming in second and two-time Paralaympic champion Jonnie Peacock placing third.
Even though his win was marred by fix claims, most felt it was well-deserved and he received congratulatory messages from all corners.