Bears spend lives in 'crush cages', tortured and starved for bile to go into Asian medicine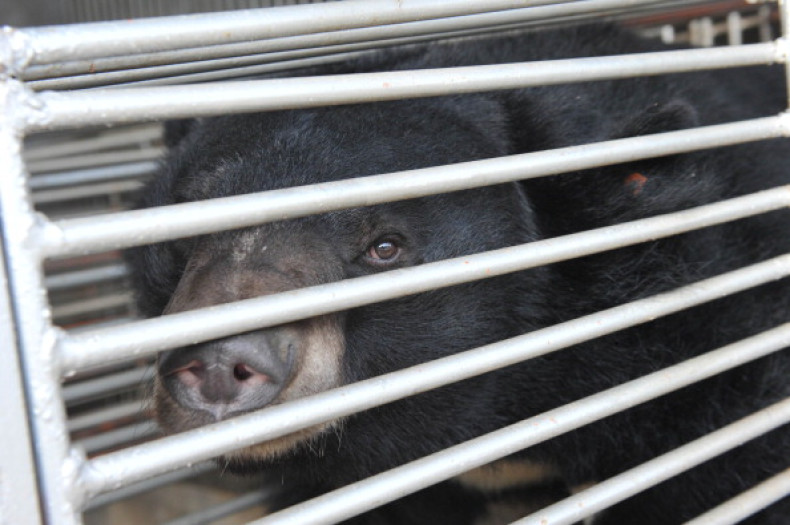 Thousands of bears are forced to spend their whole lives in cages and undergo painful procedures to extract their bile which is used in traditional Asian medicine, activists have said.
It is estimated that at least 20,000 so called "bile bears" are kept in captivity in Vietnam, China, Laos, Korea and Myanmar, World Animal Protection (WAP) said in its latest report, adding that awareness of the "cruel bile industry" is growing but that more efforts are required to end bears' suffering.
According to Animal Asia, "bears may be kept caged for up to 30 years. Most farmed bears are starved, dehydrated and suffer from multiple diseases and malignant tumours that ultimately kill them."
By living for such prolonged times in cages, bears develop several mental illnesses. For example, the Chinese media reported that one mother bear which managed to escape from her cage strangled her cub and then intentionally killed herself by running towards a wall.
After the incident, WAP sent its teams to several bile bears locations to report on the animals' behaviour. They found that the bears kept in captivity bang their heads against cages and chewed their own paws.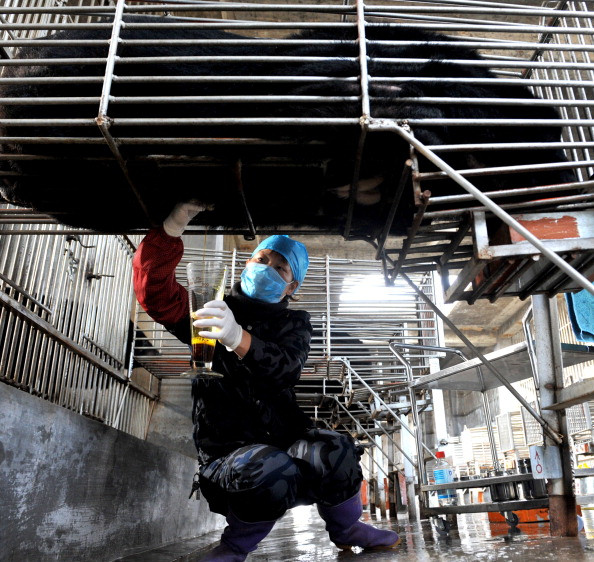 Chinese workers collect bear bile, at one of the traditional Chinese medicine company Guizhentang's controversial bear bile farms in Hui'an, southeast China's Fujian province on 22 February, 2012
Getty Images
Bile extraction
There are several procedures through which bear bile is extracted. One of which involves the bears being kept in "crush cages" where the animals are milked daily, sometimes twice a day.
Crush cages carry this name as the bears' movements are so limited they cannot stand up or turn.
According to another method, the "free drip", the bile is harvested by making a permanent hole in the bears' abdomen and gall bladder. As the hole is never closed, the animals are subject to infections.
Bear bile in Asian medicine
Bear bile is used in traditional Asian medicine to cure flu symptoms, epilepsy and hemorrhoids, as well as improve eye sight and the liver when affected by a high consumption of alcohol.
It is believed that the tradition to keep bears in cages to harvest their bile originated in China, where initially bear bile was only used occasionally, and after the animal had been killed first.
However, the Chinese government, concerned about the growing number of bears being killed, ruled that they should be kept in cages, in order to preserve the bear population in the country.
There have been numerous reports on the usefulness of bear bile, but there nothing conclusive.
According to critics, however, there are alternatives medicines that do not contain bear bile and have the same healing effects.
A success story
Citing a success story, WAP said that a local partner in Vietnam, Education for Nature Vietnam (ENV), has been working for six years to expose illegal bear bile activities in one of Vietnam's most popular tourist spots, Halong Bay.
"ENV produced solid evidence, with our support, that the bear bile tourist industry was operating in the area. This evidence has prompted the local authority, the Quang Ninh People's Committee, to call for an end to the bear bile tourism industry in the region for good."
WAP's Bears in the Wild project manager Luke Nicholson said: "Bears are wild animals, they belong in the wild, yet these animals are forced to suffer a lifetime in captivity for use in traditional medicine. "This action in Ha Long Bay, a hugely popular tourist destination, is sending out a clear message that it is totally unacceptable to exploit wild animals for profit.
"We will continue to work with governments, partners and individuals, to drive legislation, policy, enforcement and monitoring, to end the exploitation of wild animals."