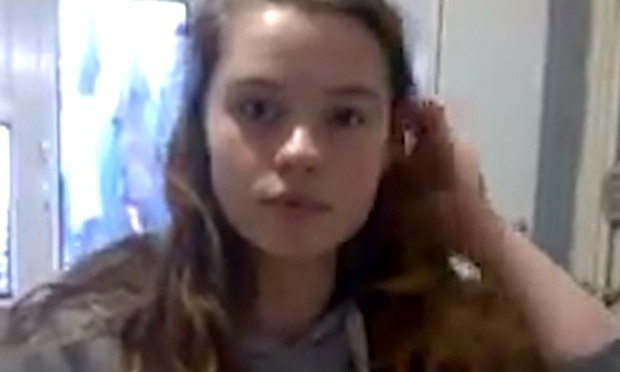 The gruesome details of the murder of Becky Watts have been revealed at a hearing into her murder. Becky, 16, went missing from her home in the Crown Hill area of Bristol on 20 February (2015). After a huge police search, her body parts were found at a nearby house in Barton Hill 11 days later on 2 March.
Her remains were discovered wrapped in cling film, concealed in bags and suitcases in a shed along with a circular saw, duct tape, stained clothing, bin liners, empty bleach bottles, cleaning spray, scourers and broken pieces of an iPhone.
On 22 June, Becky's stepbrother Nathan Matthews, 28, and his girlfriend Shauna Hoare, 22, were charged with her murder following specialist forensic examinations of Becky's body.
Opening the hearing at Bristol Crown Court, prosecutor William Mousley QC recounted the grisly details of Becky's death and the premeditated nature of her killing and subsequent concealment of her remains, which was carried out over the course of three days.
He revealed that Becky was murdered in her bedroom on 19 February. She was strangled and stabbed 15 times in the abdomen. He explained: "She was suffocated, despite her fighting for her life. There followed a deliberate, carefully planned and grotesquely executed plan to cover up her killing."
Her body was put in the boot of Matthews' Vauxhall Zafira car before his mother Anjie Galsworthy returned home from a hospital appointment. On the night of her death, Matthews and Hoare appeared to continue with their everyday routine, ordering a Chinese takeaway from Laws Kitchen - where Matthews worked and spending the evening watching TV. "All normal behaviour, other than they had a dead body on their hands," Mr Mousley said.
The following day Matthews went to a B&Q store where he bought a power saw to use in the disposal of her body. Becky's body was dismembered across her neck and above her knees, elbows and wrists. Her body parts were covered in cling film and concealed within a blue plastic box, two black suitcases and a rucksack. Her torso was found wrapped up in a shower curtain inside one of the boxes.
It is alleged that he teenager's remains were stored in a house with the intention of removing them for disposal at a later date.
Mr Mousley added: "The prosecution suggests that what was happening on February 20, 21 and 22 is the lengthy process of cutting up and carefully packaging each individual parcel, using metres and metres of cling film and in particular the cleaning up, particularly in the bathroom."
Matthews and Hoare were interviewed a number of times over the following days but repeatedly told police they hadn't seen Becky. Police visited Matthews and Hoare's home and noticed the house was cluttered but the bathroom was 'completely clean'.
Matthews eventually confessed to strangling and killing Becky in a bungled abduction on March 2. "Nathan Matthews finally admitted the killing, stating that he had tried to kidnap and imprison Rebecca Watts and said that he had strangled her," explained Mr Mousley. "He said he had acted alone in the killing... [and] in the subsequent dismemberment and in arranging for the removal of her body parts."
However, Mr Mousley explained that forensic evidence linked both Matthews and Hoare to the killing. "The police investigation led to the discovery of evidence which suggested that there was a sexual motive behind the intended kidnap/imprisonment. Evidence was found on telephones, computers and computer-related equipment connected to both Nathan Matthews and Shauna Hoare which showed a shared sexual interest in teenage and petite girls."
DNA from both Matthews and Hoare was discovered on face masks that were allegedly used during the dismembering of the body. Mr Mousley told the court that an expert had concluded that it was "easier to carry out that exercise if more than one person had been involved".
"Also found at their home were two stun guns, which were prohibited weapons and which may have been intended for the use in the planned kidnap," he said.
Sky News reports that appearing in court, Matthews denied murdering his step-sister. He also denied conspiring to kidnap her. Hoare has denied all of the charges against her, including murder.