Beggars in the north of England are pocketing more than £300-a-day from good Samaritans and squandering the money on alcohol and drugs, a council has said.
Kind-hearted members of the public in Middlesbrough are said to be handing over the eye-watering sums –amounting to an annual salary of up to £110,000 – after being sold lies by people falsely claiming to be homeless.
Middlesbrough Council has vowed to clamp down on the rising number of beggars in the area after admitting local residents have had enough.
Council officials claim more than two thirds of street beggars in the town actually have homes, while dozens of local charities and businesses offer free food to those truly in need on a daily basis.
"During the last few years Middlesbrough has seen a steady increase in begging, rough sleeping and street drinking primarily linked to fund the use of class A drugs," a council report reads.
"Levels of public tolerance have further declined and fear of crime has increased."
It adds: "Individuals can often earn a significant amount of money each day by taking donations from generous members of the public. Some of these individuals are reported to earn in excess of £300 per day.
"In the majority of cases this 'income' is used to feed their drug and/or alcohol addiction.
"The majority of day time shoppers and office workers are generally sympathetic towards begging as they believe that individuals are genuinely homeless and hungry, despite 27 local charities and businesses offering free food on a daily basis.
"Generally members of the public perceive that all street beggars within Middlesbrough are actually homeless, despite the fact that 70% have either a secure tenancy or some form of supported accommodation."
Some beggars have been so aggressive that on occasions local residents have had to dial 999.
The council has now joined forces with Cleveland Police to tackle the problem.
It has developed a double-pronged strategy which sees those with substance abuse problems given the help they need, while also being tough on those who beg.
It has proposed a "top five" list of the worst offenders, launching legal action against those who keep begging and adding messages on council payslips urging staff not to hand over cash.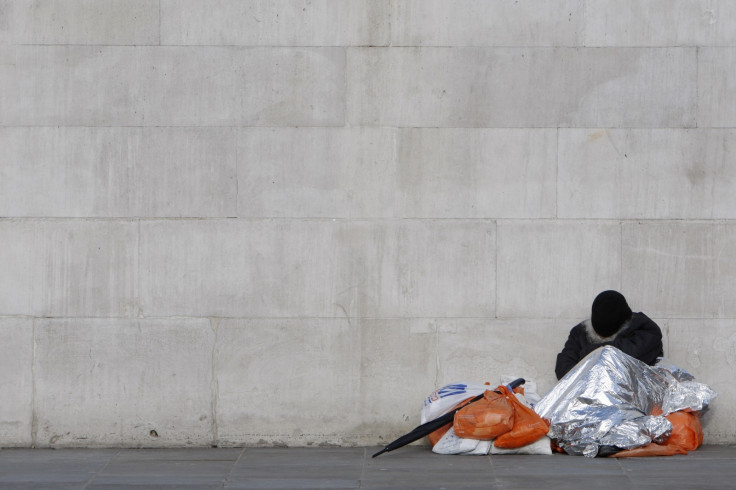 Should I give money?
As of autumn 2016, the number of people sleeping rough on England's streets has more than doubled since 2010.
Members of the public often ask themselves whether they should hand over money to beggars, especially given the rising number of vulnerable rough sleepers.
Homeless charities generally advise those wanting to help, but uncomfortable handing over cash to a stranger, instead make a donation to their organisation.
But London-based homeless charity Thames Reach has gone further, saying giving money to beggars "can have fatal consequences".
Its outreach teams estimate 80% of people begging in the capital do so to feed a drug habit.
"The frontline homelessness charities are in no doubt that money contributed by caring members of the public to people begging is, invariably, spent on heroin and crack cocaine, causing ill health, misery and sometimes death," Thames Reach Chief Executive Jeremy Swain says.
Homeless charity Crisis, meanwhile, says it should be a "personal" choice over whether to give money.
It has reminded the public that many who beg are often vulnerable and struggling with extreme poverty.
"Whether or not people give money to beggars is a personal decision, but we know from our own clients how important a simple act of kindness can be to those in desperate circumstances," it says.
"Not everyone who begs is homeless and not all homeless people will beg. Nevertheless, people who do beg are often some of the most vulnerable in our society, and many will be struggling with extreme poverty.
"We need better support services for all homeless people, not just the most visible who are on the street."
Both charities say making a donation to a homeless charity, engaging rough sleepers in conversation or volunteering time are other ways of providing support.