Belarus: Europe should not reward dictator Aleksander Lukashenko for sham elections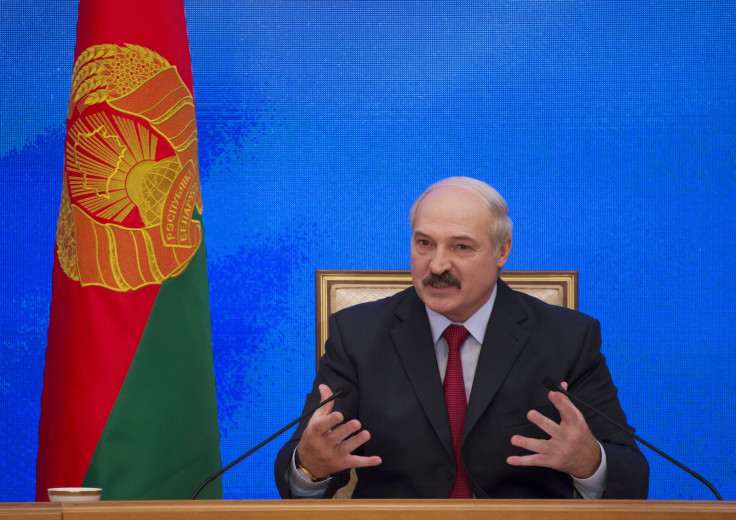 On 11 October, seven million people in Belarus were asked to elect their next president for the fifth time in 21 years. Aleksander Lukashenko, once described as "Europe's last dictator" was re-elected with 83.5% of the vote. Belarus has now been living under a dictatorship for nearly a quarter of a century.
Last time Lukashenko was elected in 2010, tens of thousands of people took to the streets to protest the crackdown on opposition leaders that came ahead of the poll, but this weekend protests were far more muted. Belarusian opposition leader Vladimir Neklyaev, who was among 3,000 demonstrating in Minsk on 11 October, had a simple explanation for the relative lack of action this time around: "People are scared."
For the last 21 years, Lukashenko has always polled more than 70% of the vote. The opposition claims that the elective process is undemocratic, that the results are systematically falsified and that it is not a big challenge to guess the result. Svetlana Alexievich, a Belarusian writer and winner of the Nobel Prize for Literature declared during a press conference that she would not vote on 11 October "because we know who will win."
"One should not say it is an election. Elections ended in Belarus in 1994 − the year Lukashenko became president", said Andrey Sannikov, who was himself a candidate in 2010 and has been jailed for it by Lukashenko's regime, speaking to me via Skype from Poland, where he lives in exile.
Another critic of Lukashenko, journalist Irina Khalip, wrote on 11 October: "If you were not [protesting] at the square in 2010 – you have no heart. If you take part in the 'elections' in 2015 – you have no brain."
Back in 2010, Belarus's opposition lead a mass protests against Lukashenko's regime, occupying squares and bringing tens of thousands to the streets. Seven of the nine candidates for the presidential elections were jailed, including Sannikov.
The movement was brutally repressed and violently attacked by the police and the secret service in the squares, leading to numerous arrests and torture of the activists and journalists alongside a total control of the information flow within the country.
"In 2010 when we were participating in the elections, we did not carry illusions either − we knew that they were not fair elections but we had a will and a hope to change the country after the elections. Today, the opposition in Belarus is actually illegal. Any activity from the opposition is followed by persecutions. We don't have any possibilities in the country," says Sannikov.
Europe and the United States reacted to the 2010 flawed elections and jailing of opponents and activists by imposing travel bans, asset freezes and other sanctions. The EU imposed sanctions on 18 local companies and about 200 individuals, including Lukashenko himself.
Sannikov stresses that the 2015 election remains a show, an attempt to get funds from the West to maintain the regime. Sadly, it appears to be working − the EU is preparing to lift its sanctions in order to help Minsk reduce its financial dependence on Vladimir Putin's Russia. Putin, for his part, has recently tried to bolter Russia's presence in Belarus by building an airbase, which has been rejected by Lukashenko. The opposition says it will simply lead to more repression.
"Lukashenko can't go to the West because he's too dependent on Russian oil and gas subsidies. He will build the Russian air base, despite his words, because if he says no, it will mean the end of his regime," Natallia Radzina, from the Belarusian Charter 97 NGO, told EU Observer recently.
It is true that Lukashenko has been trying to restore his relationship with Europe in the face of economic challenges, likely fearing that he will not be able to maintain his regime in the face of poverty and high unemployment. The last dictator of Europe has even freed some political prisoners and attempted to get involved in peace negotiations between Russia and Ukraine.
But lifting sanctions now, just as the country is about to wake up again when it realises Lukashenko's regime is weakening, would be a support to his dictatorship and a tacit agreement to his regime's crimes. The political prisoners that have been recently freed were jailed and tortured even though they were innocent and the people responsible for these crimes are about to get back their privileges, which would lead to the imprisonment of new political prisoners and persecutions.
In the end, lifting sanctions on Belarus would be a failure for EU's attempt to weaken Putin's dictatorship, right after his annexation of Crimea and his aggression in eastern Ukraine, rather than taking down one of his allies. The question is not only about peace in Ukraine, but about peace in the entire region. Encouraging the source of violence would only guarantee more violence and less stability in the whole region.
People are scared and they will be even more scared if the regime gets support from the international community. By lifting the sanctions against Lukashenko's regime, the EU will effectively be imposing sanctions on the political prisoners and those who have suffered and continue to suffer from the Stalinism that transformed into Lukashenko's regime.
We cannot allow those who rigged Belarus's elections to get away with it. We cannot let the people who killed activists in 2010 escape justice. The world cannot spare the dictator Lukashenko the indignity of having to flee his country, as Viktor Yanukovych had to in Ukraine.
Above all we cannot abandon those in Belarus who continue to fight against Lukashenko and his regime. The anti-Lukashenko rally on election day was not big, but it was there, it happened. People were joining the march while passing by. Today, they see how weak Lukashenko is and how emboldened the opposition, not least after Svetlana Alexievich was recognised by the Nobel committee.
Today, the Belarusian people have an example of brutality in their country, and an example on how to fight it from their neighbours in Ukraine. Today, they are scared, but tomorrow they will stand up. Today we all know what torture feels like, tomorrow we will understand that it was worth it as we will hear Lukashenko's shameful apologies. Down with the dictator! Zhive Belarus!
Inna Shevchenko is a Ukrainian activist and the leader of international women's movement FEMEN that demonstrates against dictatorships.
© Copyright IBTimes 2023. All rights reserved.