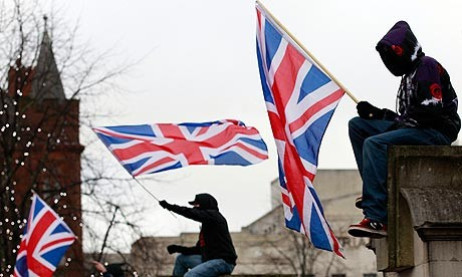 The Union flag will be flown today outside Belfast City Hall for the first time since a decision to only raise it on designated days sparked continuing protests in the city.
The flag will fly to mark the 31st Birthday of the Duchess of Cambridge, Kate Middleton. It arrives five weeks after the council's decision to only fly the flag on 18 days throughout the year, resulting in often violent protest.
There have been more than 100 arrests since the protests began and more than 60 police officers have been injured.
There was violence for a sixth consecutive night on 8 January following a brief respite over the Christmas period in east Belfast, which saw police attacked with petrol bombs and fireworks.
A day earlier, rioters used weapons including hatchets and sledge hammers to attack police and their vehicles, the Police Service of Northern Ireland (PSNI) said. In response, police fired plastic bullets and used water cannons.
It is believed the cost of policing the protests since they started on 3 December has reached around £7m.
Secretary of State Theresa Villiers has said the country is being "held to ransom" by the protestors and has called for an end to their demonstrations.
Speaking on BBC Radio, Villiers said: "It's not acceptable that those who say they are defending a Union flag are actually doing it by hurling bricks and petrol bombs at police. It's disgraceful, frankly."
Northern Ireland's chief police officer Matt Baggott has accused the paramilitary Ulster Volunteer Force, which killed more than 500 people during The Troubles in Northern Ireland, of whipping up the disorder.
He told a press conference: "Senior members of the UVF in east Belfast as individuals have been increasingly orchestrating some of this violence,".
"That is utterly unacceptable and is being done for their own selfish motives."
The Shadow Secretary of State for Northern Ireland, Vernon Coaker, described the riots as a matter of "national security" following the police's claim senior loyalist senior loyalist paramilitaries are involved in the riots.
Coaker told the BBC's Good Morning Ulster programme: "That makes it, as far as I'm concerned an issue of national security and I think we need, and the secretary of state will need, to make an assessment of what the chief constable has said about that and what needs to be done."