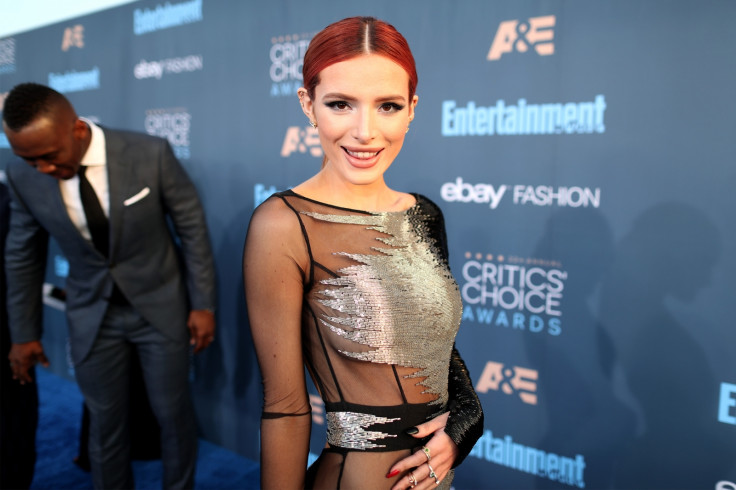 Bella Thorne is proud of her figure. The Famous In Love star has been flaunting her toned body this summer in a wide range of outfits, ranging from gorgeous gowns to outlandish get-ups.
The singer-turned-actor, who has been pushing the limits with ensembles that she tries to pull off, left quite a few in shock as she stepped out of the Bowery Hotel in New York on Sunday (10 September), wearing a bizarre outfit once again.
Wearing arguably her most risqué ensemble to date, the former Disney star left little to the imagination as she exposed a lot more than just her incredible figure in a pink jumper with the lower part chopped just below her breasts.
The 19-year-old social media sensation revealed plenty of underboob, as well as her toned tummy, while posing for the shutterbugs in the daring outfit.
She paired the jumper with matching track pants and bright red high-heel boots, and accentuated her look by sprinkling glitter on her face and body, with her pink hair pulled back behind her shoulder.
Before photos of her in the pink outfit made its way to the internet, Thorne shared a much classier snap on Instagram. She is seen wearing an elegant dress that she accentuated with earrings, necklace, brackets and a large watch.
The image has already garnered more than 295,000 likes, with fans quite taken with the picture, calling her "gorgeous" and "queen".
"Absolutely stunning ," a fan commented, while another added, "Queen!!!"
"Your so beautiful and such an inspiration, thank YOU," a third fan said.
Another follower gushed, "Why Wouldn't I Look At You Is Not What I Wanna Know. I Like You Alot.......Alot Alot And Your Feeling It."