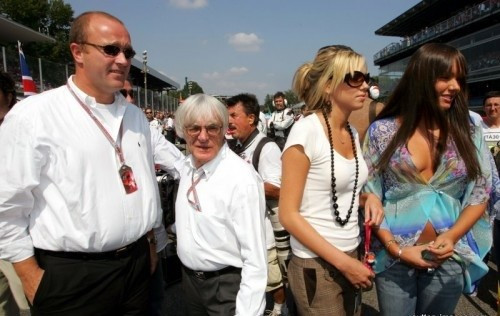 Bernie Ecclestone says he will fight to clear his name after authorities in Germany filed bribery charges alleging he was involved in a £29m bribery scandal over the sale of Formula One.
According to the Sueddeutsche Zeitung newspaper, prosecutors in Munich have handed a file to the courts relating to charges of "bribing a public official" as well as "abetting breach of fiduciary duty".
The charges pertain to allegations Ecclestone paid bribes to Gerhard Gribkowsky, formerly the chief risk officer at the German bank BayernLB.
Gribkowsky was last year sentenced to eight-and-a-half years in prison after confessing to tax evasion and breach of trust, and being in receipt of corrupt payments.
Gribkowsky claimed Ecclestone paid him £29m to undervalue Formula One's shares when the business was sold to CVC in 2006. Ecclestone, who faces a 10-year sentence if convicted, admits paying Gribowski, but says he was being blackmailed.
He claims he gave Gribkowsky the money to stop him going to the tax authorities with "false evidence", and insists the payment was unrelated to the sale of his motor racing empire.
"The money that I paid him had nothing to do with the sale of Formula One. That is nonsense," he told the German daily Bild.
"At the end he threatened to tell stories about me, which although not true would have possibly caused a lot of unnecessary trouble. So I thought I would give him the money to get rid of him.
"I am innocent. The truth will prevail in the end."
Ecclestone, 82, is being represented by one of Germany's top law firms, Thomas Deckers Wehnert Elsner. The firm said it has yet to receive the court documents, which will "take some time" to be translated into English.
The prosecutor's office said: "By German law, we cannot comment at this time. It could yet be a month or so before we can officially comment."
Once the legal formalities are complete, Ecclestone is likely to be hauled before a Munich court to answer questions. However, the Formula One boss said he was confident the charges would not force him out of his job.
Asked if he intended to resign, he responded: "No, I don't think so. The shareholders will have to make that decision. Once my contract with the company expires, they can replace me if they want."
Those comments signalled a change of tune from the previous day, when Ecclestone spoke of his fears that he would be forced to resign if charges were brought, saying F1's owners CVC Capital Partners "will probably be forced to get rid of me if the Germans come after me. It's pretty obvious, if I'm locked up".
Should the indictment proceed, it will have to be endorsed by a judge before a trial can begin, according to German law.
Thomas Deckers Wehnert Elsner said: "The documents with the charges from the Munich prosecutor's office have not been received. A statement is therefore not possible. The defence sticks to its view that Mr Ecclestone has neither committed bribery nor played any part in committing a fiduciary breach of trust."