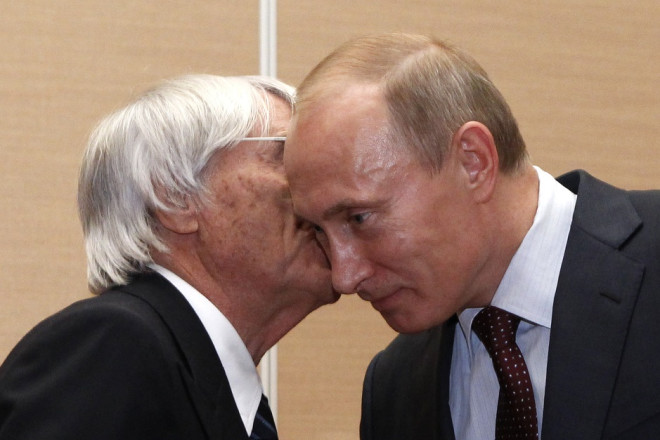 Bernie Ecclestone waded into the row on gay rights in Russia by proclaiming 90% of world's population backed Vladmir Putin's clampdown on homosexuals.
F1 supremo Ecclestone said he personally supported Putin's hardline stance. Same-sex education is banned from Russian schools, under a recent law. It has been blamed for homophobic attacks in the country by campaigners.
Ahead of the Sochi Winter Olympics, Russian president Putin issued a message to the LGBT community, saying: "Please, leave the children alone." His remark was one of many to spark condemnation from influential entertainers and politicans around the world.
Speaking up for the Russian leader, Ecclestone, 83, told CNN: "He [Putin] hasn't said he doesn't agree [with homosexuality], just that he doesn't want these things publicised to an audience under the age of 18.
"I completely agree with those sentiments and if you took a world census you'd find 90% of the world agree with it as well.
"I've great admiration for him and his courage to say what he says. It may upset a few people but that's how the world is. It's how he sees the world and I think he's completely right."
Ecclestone's controversial intervention came only a day after a judge called the octogenarian businessman "not 'reliable or truthful' while finding in his favour in a civil case.
Ecclestone's defence of Putin came just as F1 gears up for the first-ever Russian Grand Prix – to be held at Sochi, where the Winter Olympics are drawing to a close.
Putin and Ecclestone's paths first crossed last year during construction of the race track at Sochi, which runs in a loop around the Olympic park.