Convicted fraudster Bernie Madoff has said that the pain he inflicted on thousands through his Ponzi scheme does not compare to the pain he has suffered after losing both of his sons.
Bernard was jailed for 150 years for running a $65bn (£39.5bn) Ponzi scheme the largest financial fraud in history. Investigators turned their attention to his sons Mark and Andrew, who denied knowing about their father's corrupt business that is thought to have cost thousands of investors $17bn (£10.3bn) in losses.
The brothers eventually turned their father into American authorities at the height of the financial crisis in 2008 after he admitted his role in the scheme. The siblings were never charged.
In 2010, the oldest son Mark killed himself, aged 46, on the second anniversary of his father's arrest. He hanged himself in his apartment, as his two-year-old son was asleep in the room next door.
His mother Ruth Madoff revealed that the last time she had seen her son Mark alive was the evening her husband had revealed the scheme. 'I'll never get over that," she said. "I blame Bernie. It's the worst thing that can happen."
Last September, his remaining son, Andrew, passed away, aged 48, after battling cancer.
In an email from prison to NBC News, the 76-year-old wrote: "As difficult as it is for me to live with the pain I have inflicted on so many, there is nothing to compare with the degree of pain I endure with the loss of my son's Mark and Andy."
Andrew also denied the accusations that he was implicated in his father's deceit and blamed his father for destroying their family.
"Even on my deathbed I will never forgive him for what he did," he told People magazine.
Victims of the Madoff fraud have claimed that it is impossible that Bernard's, wife and other family members did not know about his deception.
Bernard said his sons who both worked in different departments in his company, knew nothing of his scam and were the target for "baseless and vindictive comments" and he is now dedicated to clearing their names.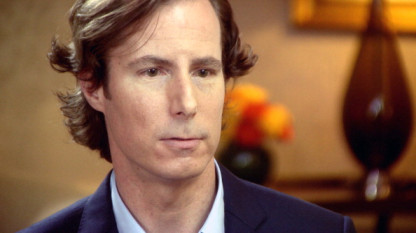 "As much as I tried to reach out to them in an attempt to explain the circumstances that caused my betrayal they could not find it possible to forgive me. I do understand their unwillingness," he wrote.
"The fact that I was trying to protect our family by sheltering them from any knowledge or involvement in my wrong doing still fails to allow me to forgive myself."
"What is still my most important goal is to do everything in my power to protect their legacy, Although neither of my son's were ever charged with anything. They were subjected to the completely false and slanderous claims and remarks of the Trustee and the media vindictive comments of the above parties."
Madoff was arrested on December 11, 2008, following his billion-dollar Ponzi scheme. He pleaded guilty to 11 federal felonies in March 2009 and is serving a 150-year sentence.
Andrew told People magazine last year that turning his father in was "at the same time the easiest decision I ever had to make and the hardest."
He first fought mantle cell lymphoma in 2003 and was diagnosed with the disease again in October 2012. In an interview last year, he said the stress of living with his father's arrest led to the relapse.
"One way to think of this is the scandal and everything that happened killed my brother very quickly. And it's killing me slowly," he told People magazine in April 2013.
The engaged father-of-two, who always denied knowing anything about his father's scheme, passed away at Sloan Kettering Cancer Centre in New York in September.